Here at Summit, we have been lucky enough to work alongside Yext, a Digital Knowledge Management platform which has enhanced our local search engine optimisation (SEO) strategy. Its mission statement is simple: "To give companies control over their brand experiences across the digital universe of maps, apps, search engines, voice assistants, and other intelligent services which drive consumer discovery, decision and action."
Aligned with our very own mission, "to make it more likely that people will buy from our clients than from anyone else", this partnership has successfully promoted the growth of local visibility for our clients.
When it comes to local SEO we face numerous common problems, especially if a client's strategy is minimal or non-existent. Duplicate listings run riot across third-party platforms, as well as a swarm of unverified and just-plain-wrong data: this all muddles Google's local signals. When it comes to local SEO, you need to ensure your foundations are set, well before building upon them with campaigns and other strategic approaches. The first thing we would recommend for any client is to have a centralised database of accurate listings.
Three common issues when managing local listings
1. Maintaining accurate listing data
Ensuring that the data you use is clean and uniform across all different directories and third-party platforms is key for building trust signals for Google. Yext provides a data hub called the Knowledge Manager, which centralises our cleansed listings data. This is then syndicated out, far and wide, across the internet's trusted directories.
Having a centralised place to handle any listings changes saves hundreds of hours within the team; we aren't updating each individual platform with each little change.
2. Simple management of listing issues
One area which is very hard to keep tabs on is the issues which appear within third-party directories and platforms. I've lost track of the amount of times I have found duplicate listings cannibalising each other – contradicting opening hours and other information. Changes to listings can occur sporadically and often, and Yext offers a great platform to track issues, fixes, and suggestions across many local directories seeded to.
3. Accurately report on local performance
Whatever changes we make within the SEO landscape for our clients, we need to ensure that they are measurable. Our clients have specific KPIs they need to hit, so ensuring that everything we do is quantifiable and easily visualised is a must. Much of the time, gathering this information is arduous: logging into multiple platforms to scrape data and manually aggregating it to create graphs and tables in Excel. When it comes to analytics, Yext has given us versatile and user-friendly tools and visualisations to quickly pull insights for clients.
Case study – client's local insights
To set the scene, we began to use Yext with a particular client back in July 2017. One of the first actions undertaken was a data cleanse – to create up-to-date, uniform listings which would be seeded to a wide network of third- party directories. This simple task had a hugely positive effect on our local visibility footprint. This boosted the Google My Business metrics and referral traffic.
15% increase in phone call actions since July 2017
After the data cleanse and seeding to local directory networks with Yext, we isolated the Google My Business metrics, and found the following trend in our phone calls: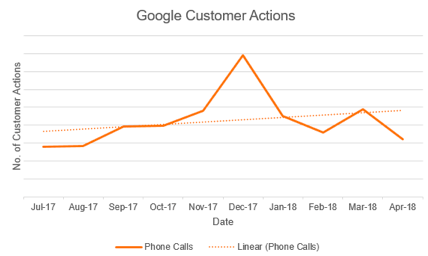 As you can see above, we are trending in a positive direction over time, with a peak occurring over the Christmas period. Since July, we have seen an increase of 15% in phone call actions.
89% increase in website clicks since July 2017
Similarly, once the data cleanse and seeding task was completed, we saw a positive trend in website clicks: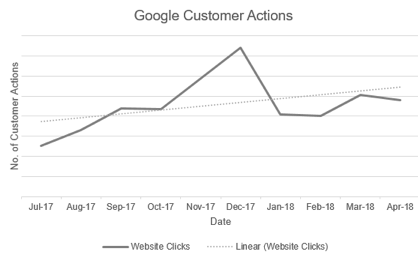 Notably, this increase also boasts a peak over the Christmas period. Since last July we have seen an increase in website clicks of a whopping 89%.
561% increase in Google Map views
To understand the sheer power of data cleansing, we have shown how our client's Google Map views have increased. This was once we carried out the task to ensure map pins and listing information were accurate.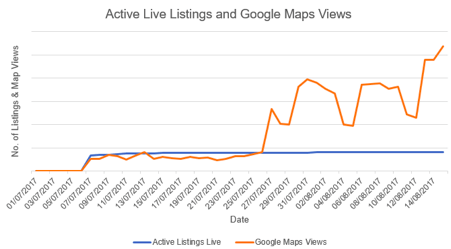 As we can see above, Google Map views were low and steady. Once the above task had been completed, the number of map views jumped by 561%.
Apple Maps has increased referral traffic by 948%
With the help of Yext, we have also been able to introduce listings onto Apple Maps; something which has had a fantastic effect on Apple Maps referral traffic, which has increased by 948% since July 2017.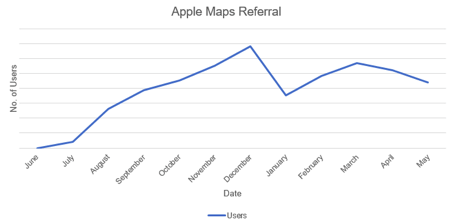 With a minimal amount of management, our client has seen an impressive uplift in performance through an increase of visits, interactions and engagement. Using a management tool such as Yext carries a great deal of benefits and has helped to improve our overall local strategy. If you're interested in chatting with us about managing your local SEO strategy, please drop us an email: [email protected]