Top 4 tips for retailers preparing for January sales
By Neil Collins | Monday 16th December 2013
---
January Sales
Retail's January sales are happening earlier these days, especially online, and retailers need to be prepared.
Long gone are the days when bricks and mortar stores waited until January 1st and we all watched the chaotic shopping scenes on TV news.
Competition is colossal in the retail space these days and the pressure from online only makes the requirement to get it right all the greater.
January Sales Insight and Advice from Summit
In this week's Retail Buzz Peak video, Summit's Head of Retail Consulting Neil Collins shares insight into current clients' plans for January sales.
Teams were asked to submit the start times of clients' January sales and the chart below was compiled from a cross-section of that information.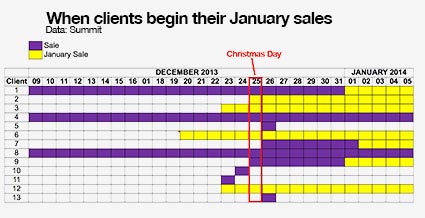 While we know that big name stores like Harrods, Harvey Nichols and Selfridges will launch their offline sales on either 26th or 27th December, the bar chart shows that online retailers are starting days earlier – some two days before Christmas, and one even on the 20th December.
Retailers need to look at ad spend, budgets, creative and more, and since all online retailers are in the same boat, competition will be hot.
So what do you do? Watch the video to get the tips.
Watch our other Peak Season Videos