Link building strategies are constantly changing and evolving over time. A few years back, in 2011 there was a high reliance on one-to-one link building and domain authority was one of the key metrics to consider. Move forward to 2013, metrics such as relevancy and visibility have grown in importance, prompting a shift of focus away from quantity to quality of links.
Numerous Google algorithm updates have penalised sites and it's now becoming a lot harder to understand the exact value of a link. The tactics involved in link building can be very time consuming and therefore must be managed carefully.
Here at Summit, we have evolved our approach, and back in 2016 we changed our structure in-house to join up the PR and content teams, creating a multi-skilled Content Marketing team. This strategic decision was to join up the creation and distribution of content to attract and retain our target audiences.
Instead of sticking to the classic link building tactics, we now have a broader strategy to answer questions such as:
• What audience do we want to reach?
• What types of content do they want?
• How can we help them find relevant content?
Our focus is now on brand awareness, user behaviour signals and in-depth, useful content.
What Google algorithm updates have affected content marketing?
eCommerce capability and customer behaviour are constantly evolving, and search engines have evolved along with them. Some key trends in the past year have been the rise of voice search, virtual reality and hyper personalisation. As user behaviour has changed, the way we used to think about the impact of links on site reputation has become outdated.
The Penguin update (originally released in April '12) prompted the biggest shift in how we view link building. This update changed the focus from quantity to quality of links, penalising websites with paid links, overly optimised anchor text, and links coming from poor quality or topically irrelevant sites, or sites created solely for link building purposes. The latest penguin update (4.0) allows the algorithm to make changes in real time, impact the ranking of individual URLs as opposed to just entire sites and entirely ignore any link it deems to be low quality.
Numerous updates (Hummingbird – August '13, RankBrain – October '15 and Fred – March '17) have increased the importance of user friendly, high quality content that responds to the searcher's intent, but the key algorithm change that changed the way we view content marketing was the Panda update (February '11). This update penalised sites with thin or duplicate content, poor user experience, keyword stuffing, user generated spam and plagiarised content.
These updates have all changed the impact of inbound links and shifted focus towards good quality online content. Links themselves may continue to become less significant, in favour of online citations and brand mentions. These can be classed as implied links, taking the importance away from the link itself.
Speaking at Brighton SEO in September 2017, Google's Gary Illyes discussed the value of 'linkless mentions' or 'linkless backlinks':
"Basically, if you publish high quality content that is highly cited on the internet – and I'm not talking about just links, but also mentions on social networks and people talking about your branding, crap like that. Then you are doing great."
So, what does the future of content marketing look like?
As you might expect, interest in link building has declined over time and content marketing has become more popular, as can be seen from the Google Trends graph below.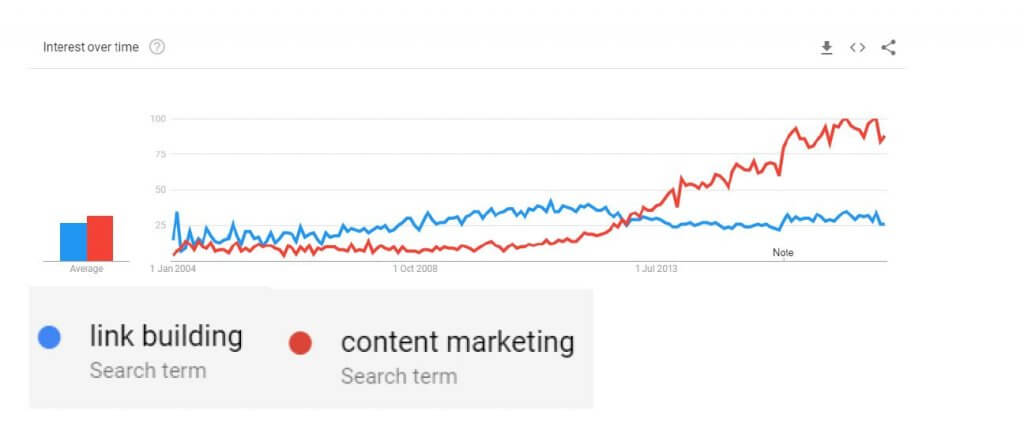 A successful SEO strategy in 2018 will move towards good quality content and relationship building.
Google is looking for content that responds to the user's intent. Browsers should find the content interesting and spend time on page reading it. The increased visibility gained by creating great content ensures that people will see the value in connecting with your brand and will in turn introduce more opportunities for quality inbound links and mentions.
You should aim to build overall brand awareness and a positive reputation, connecting with your target audience through social media and forums and developing powerful, relevant contacts that will be beneficial on an ongoing basis. Be proactive in monitoring the sentiment of the conversation around your brand, exploring what your audience thinks of your brand, service, products and competitors.
To measure success, focus on metrics such as direct website visits as an indication of brand awareness, and user behaviour signals such as time on site, pages per session and bounce rate. Improving these metrics should have a positive impact on your rankings and ensure you are maximising visibility with your target audience. Get in touch if you would like more information regarding how we can help your business with your Content Marketing strategy.