At the beginning of February 2020, Yahoo Finance predicted that in the US Valentine's Day spending was going to break records, again. But do our retailers here in the UK truly take advantage of this romantic occasion? Check out our favourite marketing activity in the build-up to and on Valentine's Day below.
Pandora want you to open the (jewellery) box, with consistent social-to-site branding and consolidated category pages
Jewellery brand Pandora upped their game when it came to Valentine's Day and integrated a social media-to-site approach to the special occasion.
If you have a Valentine's Day offering, make it known!
But unlike a lot of brands, Pandora made sure that anyone visiting their website in the build-up to, and on, Valentine's Day knew exactly what they had to offer for 14th Feb, whether treating yourself, gifting a loved one or a friend. As you can see for yourself, their page was filled with on-brand imagery and content, all unique to Valentine's Day.
Valentine's Day categories make user journeys more efficient
Pandora's e-commerce team also created their very own Valentine's Day category, that was easily and obviously accessible on the homepage. This made it super easy to find and buy products related to Valentine's Day.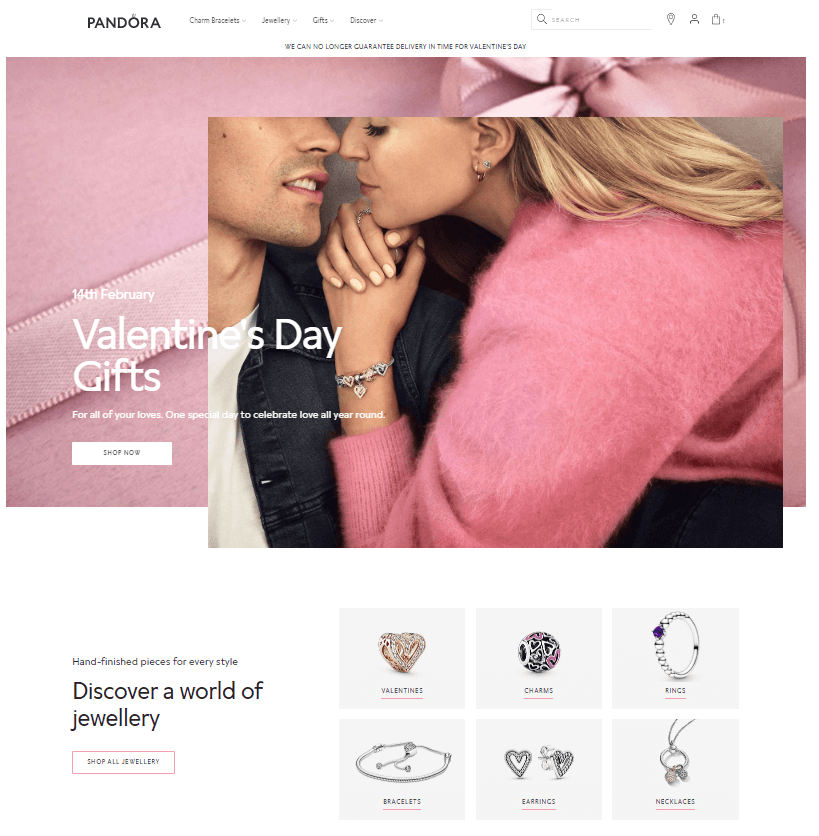 Create anticipation by providing snippets in advance
In the lead up to the day of love, Pandora released an engaging, animated video on YouTube to showcase what they will have to offer. This reached over 700,000 views in just 15 days and was another way for users to discover the Pandora Valentine's category page.
Summit Client Manager, Emma Barrott, stated "it's really important for brands to take full advantage of their Valentine's Day offering, and if they can make their online platforms all about the special occasion, even just for the day – they should! As customers are more and more reliant on easy, refined and engaging customer experiences, providing focused categories solely for a special date or event can help improve their overall customer journey. But as soon as 15th Feb hits, change everything back! You need to stay relevant, and no-one cares about Valentine's Day once it's over…"
ASOS provide end-to-end Valentine's Day campaign with engaging design, discounts and Instagram stories
When it comes to big retailers, ASOS have certainly got it right in the context of smaller details that truly matter to an integrated campaign aimed at their target audience.
A modest discount can go a long way
While a lot of retailers are still on the back of their big winter sales, ASOS switched it up and provided a 20% discount with the code "LUV20", just for Valentine's Day. They used banners and consistent Valentine's branding on the homepage and throughout the site, to make sure no-one misses out.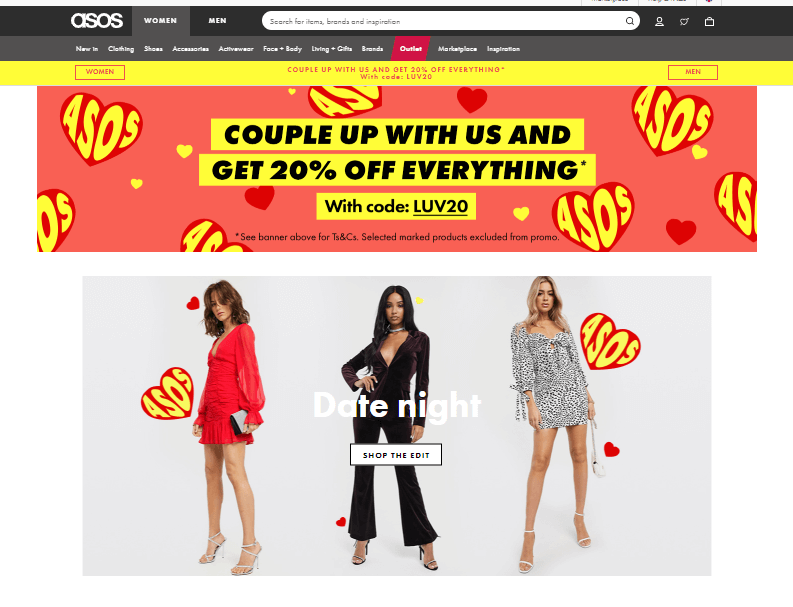 Engaging Instagram stories focus on specific categories
But the online activity didn't stop there. ASOS focused on their Instagram account, using stories to reach their audience, calling out specific products and enticing users to click through with innovative motion-design. According to Hootsuite (2019), around 500 million people use Instagram stories every single day. So, when you have half a billion people using stories and around 130 million Instagram users tapping on shopping posts, it's an essential campaign tool to help push through sales during a special event!
ASOS multimedia designer, Ellis Newlove, had a lot to say about the collaboration of social, design and marketing teams to provide rounded special event campaigns. He told us, "it's great to see retailers caring about their whole target audience rather than just those who use a desktop browser. Using a mobile-first approach, such as Instagram or other social channels to show off creative design for campaigns can really engage users and persuade them to shop."
Durex challenging sexual norms this Valentine's Day
It's the year 2020 and Durex are now using their platform to challenge the "sexual norms" that have been engraved into our everyday lives. And for Valentine's Day, it's no different.
This year, Durex created an insightful and interactive infographic that contained facts about sex lives in the UK. As part of this marketing campaign, Durex used a pop-up box as soon as you hit the homepage so any users who went to Durex on Valentine's Day could instantly learn more about challenging sexual norms.
Some of the information focused on satisfaction, orientation and expectations. SEO Content Executive, Joe Waddington, here at Summit says, "It would be easy to play it safe and keep the discourse around sex frothy and surface-level, however Durex have really made a statement of intent with how they're talking about sex in 2020.They are covering subject matters that you just don't see elsewhere and, in the process, they are pushing the boundaries of the conversation in a healthy and progressive way.
Their 'Sexpectations' series for example, showcases the importance of discussing the real sex issues affecting people today. With frank discussions around gender identity, and brilliantly insightful articles looking at the need-to-know facts for same sex relationships, they are covering subjects that many others are simply just too afraid to."
Independent eyewear specialists get creative with artistic, charity collaboration
Although not directly aimed at Valentine's Day, we couldn't help but notice this (suspiciously) romantic limited-edition piece from Cubitts, launched just 4 days before Valentine's Day. For a limited time only, Cubitts have collaborated with renowned British artist David Shrigley to create a bright pink spectacle-cleaning cloth, available for just £5 online. This unique cloth, entitled "I loved you from the first moment I saw you", allows art-lovers and spectacle-wearers alike to carry a little piece of art with them wherever they go.
Here at Summit, we love a unique and creative way to get new and old customers intrigued by an independent retailer, so there's nothing better than seeing an innovative product that will get people talking. Collaborating with another brand, company or person to create something new is a great marketing tool and can help your overall brand awareness.
You have the chance to purchase this awesome cleaning cloth at Cubitts for a limited time only!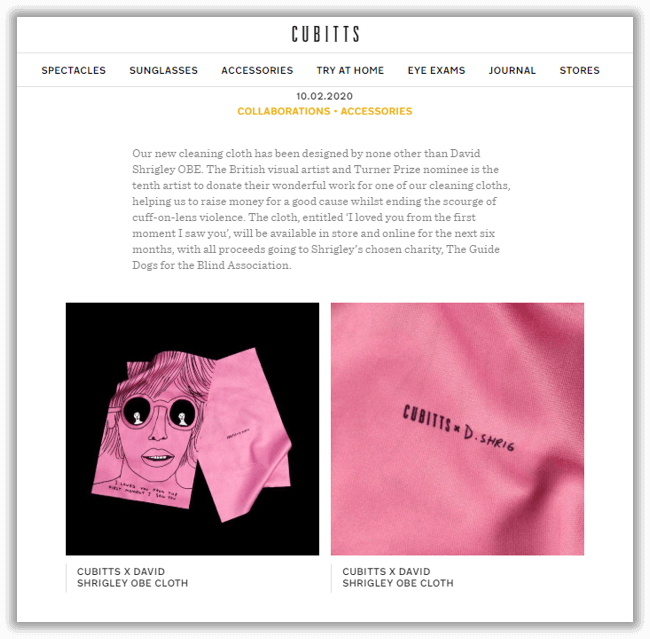 Twitter are ahead of the game when it comes to user-generated content
They aren't a retailer, but we couldn't help but include Twitter's Valentine's Day 2020 campaign. As meme-culture and viral tweeting becomes more and more of a phenomenon, Twitter didn't refrain from using tweets to poke some fun at Valentine's Day and some of the weird and wonderful situations their Tweeters get into.
They used these tweets as huge London Underground adverts, providing a bit of a laugh during the commute but no doubt encouraged people to head to Twitter and share their own stories.
According to Econsultancy (2019), user-generated content is going to be one of the biggest marketing trends in 2020. Whether this is quotes, reviews, case studies or blog posts, using your audience to generate content for you helps your brand feel more authentic, honest and engaging.
So, there you have our favourite Valentine's Day 2020 marketing activity. Want to get creative with your marketing campaigns? Get in touch via [email protected].