Hull based entrepreneur, Dr Jillian Anderson, from East Yorkshire, was named Entrepreneur of the Year at the 2018 English Women's Awards – North earlier this week.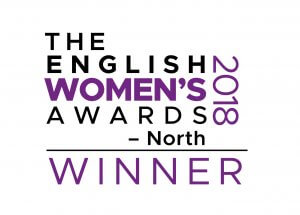 The awards, held on Monday evening, celebrate the achievements of women in business across various sectors including technology, digital and ecommerce, and Jillian picked up the award for her work in developing a proprietary predictive analytics tool for online retail at Summit.
Jillian joined online retail specialists Summit straight from university, after completing a PhD at the University of Southampton eight years ago and was the very first member of Summit's Insights Team in its Hull office.
Inspired by her course and the world of predictive analytics, Jill worked with Professor David Wooff, lead statistical consultant at Summit, to develop a way in which the online retail specialist could answer its clients when they came to them – as they often did – with the question: "How much budget should I spend in which channel, and what return can I expect?"
Working with Prof Wooff, Jill has been instrumental in building and developing Forecaster, which, through the power of data overlaid with multiple buying triggers, such as seasonality and weather for example, allows Summit to make accurate decisions about where and when their retail clients should invest marketing budget to make the greatest profit.
Since 2013, Forecaster has generated over £1 billion of revenue. It tells retailers exactly where and when to spend their money to deliver the greatest possible profit and clients include Joules and Argos.
Not only has Jill been instrumental in the development of Summit's proprietary predictive analytics platform, Forecaster, but she has grown the Insights Team itself – running a team of world class statisticians, computer scientists and marketing experts, there are now 13 members across three offices, with plans to grow further.
Ben Latham, Director of Digital Strategy at Summit, commented: "Jill has been instrumental in building our proprietary predictive analytics tool which has been the bedrock of Summit's proposition. This not only allows us to deliver greater levels of insight to brands and retailers but it also has enabled us to realise our founding values that we make it more likely that people will buy from our clients than anyone else."
On receiving the award, Jillian commented: "I'm delighted to have been awarded the Technology Entrepreneur of the Year title – I've always had a passion in exploring the power of data and predictive analytics so to have been able to bring this to life and build a team around the technology is hugely rewarding."