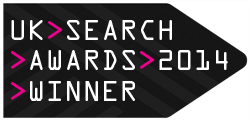 Summit's industry leading work with predictive analytics in performance marketing was once again recognised by our peers at last night's UK Search Awards. Facing stiff competition from 69 other entries Summit, together with our client Argos, won Best PPC Campaign of the year.
The judges were impressed with the ambitious strategy, use of advanced statistics and outstanding financial results that saw Argos achieve new records in sales from PPC while maintaining cost of sale. The magic sauce in Summit's approach was the use of predictive analytics to predict how customers would behave and adjust bids and creative in near real time to take advantage. To increase the accuracy of these predictions Summit used data from sources such as weather, TV, location and seasonality.
Hedley Aylott, CEO and Co-founder of Summit, who was on hand to collect the award, said "The Summit and Argos teams have worked tirelessly on the development and testing of the new multi-channel performance marketing platform which helped to achieve these incredible results. We've invested heavily in the development of the predictive analytics that power this platform and we're very close to launching this to the market."
This is the second award Summit and Argos have won this year with the same campaign taking the Retail Campaign of the Year at the Northern Marketing Awards in October. The same campaign is also nominated for two further awards at the upcoming eConsultancy Digitals on 12th November.