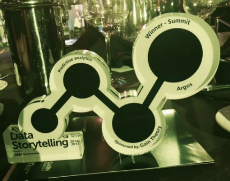 Last night we were thrilled to be presented with the coveted predictive analytics award at the Marketing Week Data Storytelling Awards. Created in order to celebrate the innovative ways that brands capture, extract and tell stories with data, the awards were judged by representatives from Disney, Marks and Spencer, Coca Cola and the BBC, among others. The predictive analytics category was hotly contested, and after being shortlisted in 2015 we were delighted that our ground breaking work with Argos saw us presented with the trophy this year.
Summit and Argos – predicting seasonal patterns generates 21% year-on-year increase in revenue
As part of an ongoing growth strategy, in 2015 we set out to investigate how we could better predict Argos' performance in relation to annual seasonality and key events in the retail calendar (for example Easter weekend and Black Friday).
Using historical paid media data, we created a statistical picture of annual seasonal demand for each of Argos' portfolio of products. We were then able to use this information with our marketing intelligence platform, Forecaster, in order to decide where and when to spend marketing budget to generate the greatest return. This resulted in a record-breaking 21% year on year increase in revenue for Argos.
We are delighted that our innovative approach to digital marketing has been recognised as being world class, and we look forward to defending our title at next year's Data Storytelling Awards.
"We were able to transform Argos' performance by truly understanding the effects of seasonality. This approach can achieve similar results across the whole retail value chain for any retailer." – Ben Latham, Director of Digital Strategy, Summit.