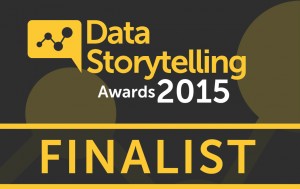 Summit and Argos have been selected as finalists in the predictive analytics category in the Marketing Week Data Storytelling Awards.
Judged by industry experts from O2, ITV, John Lewis and eBay among others, The Data Storytelling Awards celebrate campaigns that have 'merged the science of data and art of storytelling to effectively engage and drive positive results'.
Summit and Argos were nominated for work in 2014 on Argos's paid search channel, using our revolutionary performance marketing platform, Forecaster.
Powered by predictive analytics, Forecaster enabled us to achieve an overall 170% year on year uplift in net margin across all of Argos's product categories. In almost every category the uplift was over 100% and in some categories as high as 900%, and we were able to accomplish this while remaining under our cost of sale target. To find out more about how we used predictive analytics in order to maximise profit for Argos please download our free whitepaper, Back to the Future for Performance Marketing.
We are up against several formidable competitors in the predictive analytics category, including Ikea and Land Rover. The winners will be announced at the prestigious ceremony in London on 10th September 2015, during an evening of reward, recognition and networking.