Last week Summit reported on the global impact on retail as a result of COVID-19. The report included insight into what we can learn from other markets in Europe and China, as well as a 'what now?' checklist for retailers to be able to spring into immediate action. In the report were several key themes, which we'll be covering in more detail over the next few weeks. These key themes highlight the topics which have appeared in our research surrounding COVID-19 and retail. For today's focus, we shine the light on an area which is hugely prominent right now: solidarity and community.
Whether it's supporting key workers with specific times to do their grocery shopping, or providing essentially medical supplies for hospitals, many brands and retailers' usual business structures have been entirely flipped on their heads. Within just a few short weeks industries including construction, entertainment, travel and manufacturing (to name just a few) have been forced to think differently in order to survive the crisis, and be remembered as a brand that dealt with the pandemic both in a manner which is honourable and ethical. Future customer loyalty will be defined by how retailers deliver on their promises today and through the crisis for their staff, customers and the wider community.
Brands who are helping the front line
Many brands, both big and small, have shown the ability to roll up their sleeves and deliver what is needed when the going gets tough. Beauty brands such as L'Oreal and Estee Lauder, and alcohol brewers and distilleries such as Brewdog & Smirnoff, have halted usual manufacturing to support with the production of hand sanitizer and keep up with the COVID-19 demand.
Vauxhall and Dyson have positioned themselves to help with the evident shortage of ventilators, helping those in great need when in critical condition in hospital. And well-established UK retailer, WHSmith, contributed in their own way by donating notepads and pens to the NHS Nightingale hospital to support NHS staff.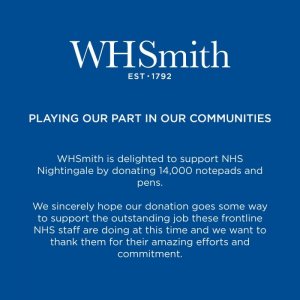 But how do these efforts help support a brand in a time where there will be uncertainty of their own future? Managing Director of Summit, Ryan Thomas, states: "During this period of great difficulty, we are seeing a number of household brands help in the fight to combat this horrendous virus, in some cases bending their business models out of shape. I truly believe that most of these are doing it because they think it's the right thing to do, not because of any future benefit, but naturally it will reflect well on their brands and may win goodwill and future customers."
Brands who support the community
Owner of healthy eatery, The Pantry 8020, Kate Lawley, shares her insight into how she's had to adapt her Nottinghamshire eat-in, to a take-out. "We've had to move everything all online and create a "hands-off" process to ensure a zero contact when customers collect their delivery. We've also significantly reduced pricing to make our healthy takeaway meal service more accessible."
Kate says the biggest challenge they've faced is that "normal outgoings remain, we still have a team to pay and orders to deliver even if we're not making a profit. Right now, our sole purpose is about giving back to the community."
Even those who have nothing to sell but only want to serve include the likes of the Church of England. From starting out on podcasts to launching achurchnearyou.com where you can find out about local streaming services and events, the importance of reaching out to those in the community who need it most is a message that runs true and resonates with everyone in current times.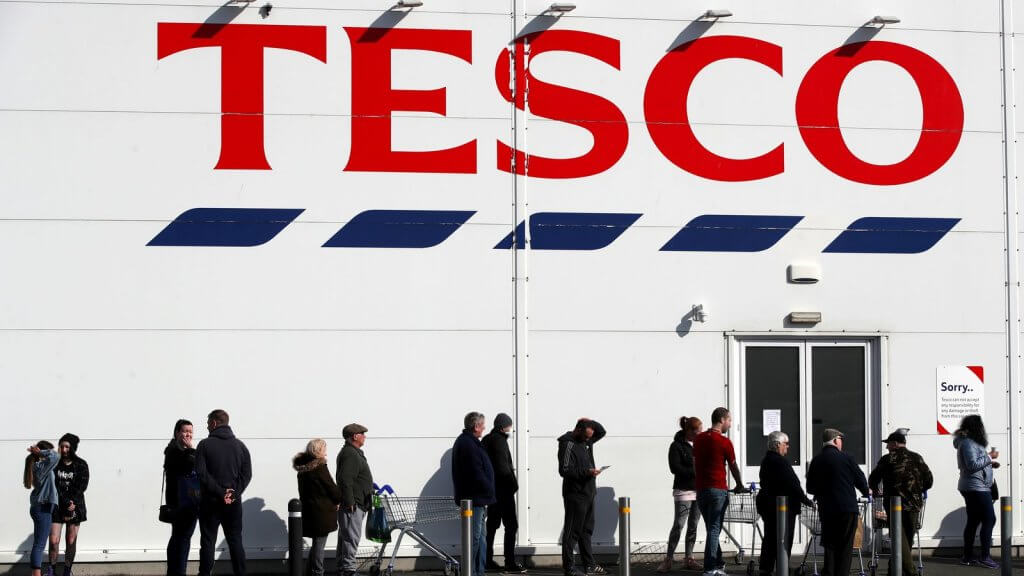 Image: Tesco social distancing measures outside one of its 3,800 UK & Ireland stores
How brands can be remembered
Treating customers fairly and maintaining a high level of service was not only a necessity pre-COVID-19 but is a duty of care highlighted further during the pandemic. As grocery has seen a huge upturn, the 'big 4' (Asda, Tesco, Sainsbury's & Morrisons) have had to work relentlessly to ensure they can meet customer demand. But it is not only the treatment of customers that will ensure the positive way in which brands are remembered. Sky News recently reported that Tesco has had to recruit up to 45,000 more workers to cope with the demand of sick members of staff. This stresses the importance of the need to fulfil their duty of care towards employees as well as customers. Along with other UK supermarket chains, and other stores which are still operating, social distancing measures, customer limits in store and screen guards for cashiers have been installed which supports this theory.
Health & education are at the forefront of marketing
Brands across the world are using their platforms to reinforce the message of staying safe. Being part of the movement which protects people both ethically and in a way which resonates with loyal fans of the brand have been seen to have the biggest impact. The likes of Nike who used a simple, yet effective twist on a previous campaign also gained the support of brand ambassadors such as Cristiano Ronaldo and LeBron James to hammer home the message.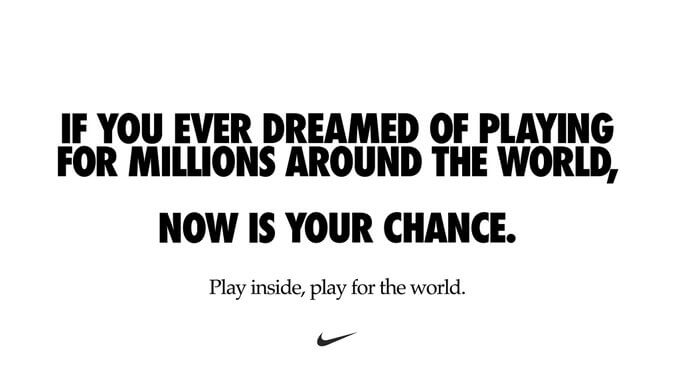 Utilise the time wisely
Although this time is unusual to say the least, don't hide in the dark. This is a time where brands should be creating long lasting meaningful relationships with customers. Try to view the glass as half-full and find the good amongst the bad. A less busy period may mean an opportunity to provide smart, educational marketing which reaches the customers just when they need it. That, combined with more eyes on screens than ever before, means the right marketing plan and execution couldn't have a more perfect time than the here and now.
If you want to find out how Summit can help support your marketing plans now and post-COVID-19 get in touch via [email protected]