SEO is a constantly shifting landscape, with algorithm changes and new functionality being thrown in to complicate matters even further. Below I have outlined the main features which should be addressed in your SEO roadmap this summer. Of course, Google can change the specific requirements for these, but there has been clear direction given through various studies and statements which we will now explore.
Tap into the growth of voice search
Customers use voice search now more than ever, with an emphasis on utilising this for local search. This means that ensuring that your site is up to date with Google My Business, Apple Maps and other services is essential to be visible to customers searching in this way. After all, 46% of voice search users look for a local business daily and 27% of searchers then visit the website after searching in this way.
Voice search is set to grow over the coming years and so there is no better time to make sure that you are as visible as possible through this searching method.
Get your site ready for mobile-first indexing
Mobile-first indexing is here and has been for some time, I have written about this subject before, so I would rather not repeat myself here, to learn more about how important this is, please check out some other posts such as "Why Retailers Should Adopt a Mobile-First Strategy Across All Marketing Channels"
This being said, this is extremely important and if your mobile site isn't ready to be put in the spotlight, this should be at the top of every roadmap you have!
Focus on quality content development
Google's focus on this is obvious, particularly following the creatively titled March Core Update, this had a typically vague description, however, it was clear that the focus of this was on good quality content. There seems to be an element of this included in every update announced by Google, so long as your landing page is engaging and useful to the user for their searched query, your result will perform well in organic SERPs. This is illustrated by the data table below provided by Search Metrics, the more engaged your users are with your site, the more likely your site was to prosper from the recent algorithm changes.

It would be a great idea to check your own engagement metrics within GA to ensure that you are within this "winning" threshold. If you aren't, there are a couple of areas highlighted below to help you out:
Video optimisation
Video content is a fantastic tool to build user engagement, we have seen great performance from our own clients with increased dwell time on page following the implementation of video content. This gives greater context around the content already on page, allowing the user to digest the content however they prefer. This displayed particularly well when looking at Moz's Whiteboard Friday series. Furthermore, if you are an ecommerce site, it is worth noting that 80% of people are more confident in their purchase after viewing a video.
Content creation – length and engagement
There is also value to be found surrounding the creation or consolidation of content. Rather than tailoring your content to rank for specific queries, instead try to rank for topics. For example, if you have lots of different articles surrounding dog grooming, split by hair, claws, teeth, etc. Why not try and create "the ultimate guide to dog grooming" with multiple sections within here.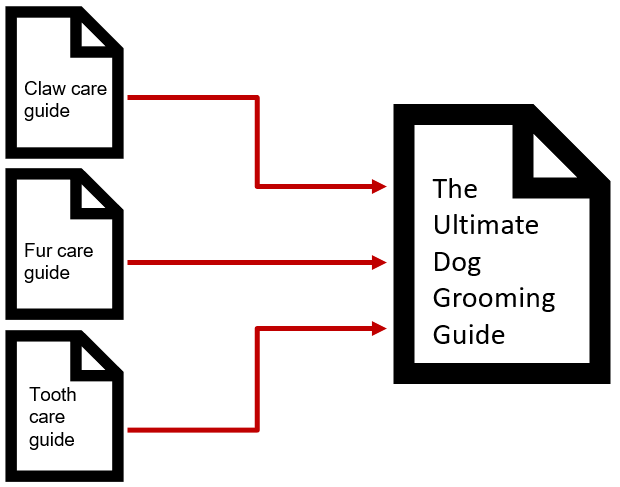 This will lead to stronger engagement metrics, increased authority and also more visibility as this piece will then rank more successfully for a wider breadth of queries.
Brand as a ranking signal
Sentiment & perception
Google has been known to look at brand sentiment and customer perception of brands for a long time, however, in recent years, this focus has certainly tightened. Gary Illyes has stated in the past that "Managing how your brand is talked about online matters to Google" and "Online brand mentions help Google learn about brands and what should be associated with them".
More and more businesses are seeing the impact of improving (or not improving) brand sentiment in this way. This is seen as when search queries structured as "brand+generic" increase, this correlates with improved organic rankings around the isolated generic query. This means that influencing how often users search for your brand will not only aid the number of impressions your site receives but will also help boost your rankings for generic terms as Google gains more context around what your site offers and why customers tend to visit.
Favicons
Further to this, Google has also announced how brand favicons will soon be pulled into organic SERPs which will certainly aid brand organic CTR and increase customer's recognition of your brand when performing generic searches also. I would recommend reviewing Google's implementation guidelines to make sure you can take full advantage of this change, below is the comparison used by the search giant to illustrate the change.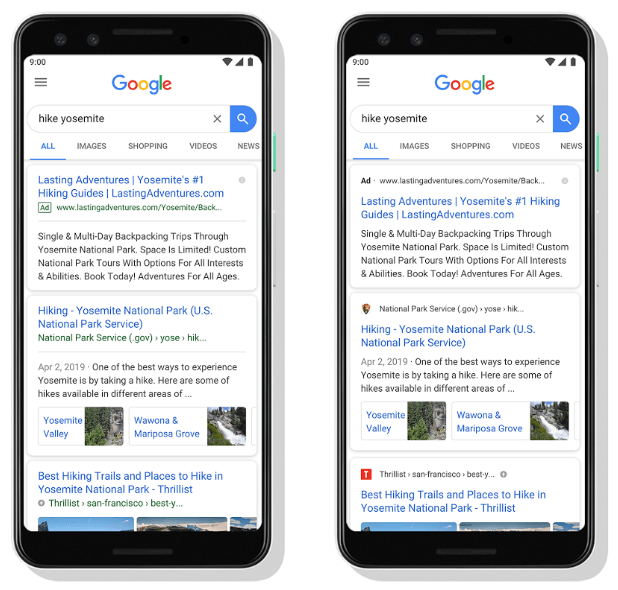 Don't forget about the power of artificial intelligence
The role of artificial intelligence (AI) in organic search is also ever growing, with the introduction of RankBrain, this means several factors now having an impact on organic ranking. RankBrain leads to a constantly changing search landscape, although Google have stated that CTRs do not have any bearing on organic ranking, this has contradicted several studies conducted by webmasters over the years. RankBrain also leads to the testing of searcher intent and allows Google to decide which content should rank for certain queries, for example, guides, articles, products, etc.
This leads to an even larger emphasis on adopting a "test and learn" approach within SEO. Keep an eye on bounce rate and CTR for your strongest performing pages in order to determine which strategies are working and which are struggling against competitors in the landscape. From here you will be able to adapt and feed this into your strategy to create the right content to match user intent.
Final thoughts
Search results are ever changing, it's what keeps us in a job. However, the main changes can be seen above through trends and statements straight from Google themselves. Businesses should structure their SEO roadmaps around this skeleton, but as with all strategies, always leave some room in there for when a funny bone gets thrown in. Things like the favicon update and the removal of rel="next" and "prev" tags means you may have to adjust your plans, even through the general direction should remain steady.
Sources
https://seoexpertbrad.com/voice-search-statistics/
https://www.wyzowl.com/5-stats-ecommerce-needs-video/
https://blog.google/products/search/new-design-google-search/
https://www.stonetemple.com/does-google-use-online-brand-mentions-for-search-ranking-eric-enge-with-gary-illyes-at-pubcon-2017/