There is a lot of craziness going on in the world right now. I'm currently sat in my makeshift home office between my fully loaded clothes horse and disappointingly unpopulated shoe rack, and have been for several days now.
As the world adjusts to working from home where possible, similarly webmasters are adjusting to new challenges brought about by the coronavirus. Some of these have led to certain search features being fast-tracked, like the additional structured data for store announcements or the updated GMB options to adhere to the current landscape. Other challenges have just been trying to get my conference call provider to unmute myself.
Sadly, not all workforces are in a fortunate position as I am. Some professions just aren't possible when working from home, which poses yet another challenge for the retail industry. When distribution centres and logistics are under stricter guidelines than ever, what happens if we can't trade effectively? This might have crossed your mind recently. The solution would be to cease trading until it is safe to do so, but what impact will this have on your SEO? What happens if your competitors continue to trade in these difficult circumstances? More importantly, how can you bounce back to your former strength after all this has come to pass?
So, what do you do if you have no choice but to stop trading?
Initially, you will be faced with two options of how to handle your site no longer being able to process orders:
Turn the site off completely, so that users are unable to access any pages
Turn off the functionality only, blanking out the 'add to cart' button for example
Do NOT choose option A. This will result in a poor user experience for your prospective new customers who can no longer see what you usually offer but will also impact existing customers who might have outstanding orders with seemingly no way to contact you. Alongside these user issues, having your site down for an extended period of time is sure to convey negative trust signals to search engines. This means that you will have a far tougher time recovering your lost rankings and performance when your trade functionality returns.
Option B, although still a frustrating prospect, is the way to go. This has been outlined recently by Google themselves in a recent Developer Guidelines post. Keeping these pages up to be crawled and indexed is essential for maintaining your ranking authority throughout this period.
What does the data say?
Overall rankings look to be unaffected
Using data from our clients and looking at some competitor data, overall organic rankings do not look to have suffered too much in the short term. This transactional change also won't harm your brand queries, if a customer is searching for your brand, it still makes sense for Google to serve your homepage.
Generic and competitive queries will be impacted first
Generic transactional queries have been seen to have a negative impact following the switch-off of transactional functionality. This is particularly true in cases where competitors are still able to trade. In the example below, we can see how overall organic rankings remain stable after the change, however, the average rank for a generic, top-level category query has seen a decline following the change.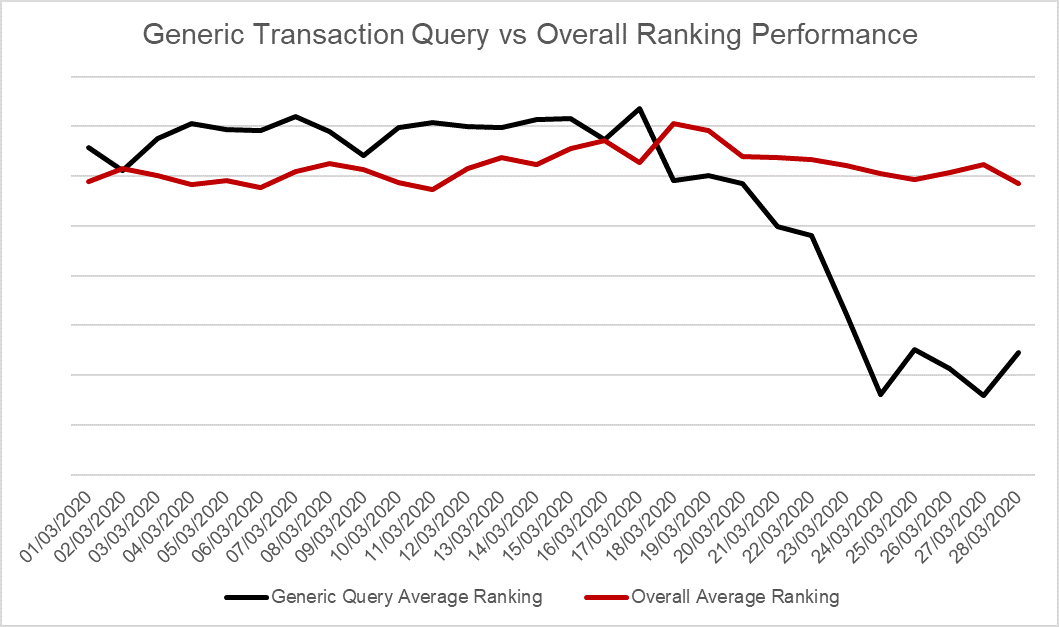 What this is likely to mean is that Google is choosing to show your result in a lower position due to the fact you can't complete the intention of the search – to buy a product. This is not the case with all conversion terms, but does float the idea that this should be looked at on a by-query basis.
Your content rankings should be safe
Content rankings however, do not appear to suffer in this way. The intent behind a customer searching for "how to wear/use" is to find the information, not necessarily to purchase the product. With this in mind, your content rankings should remain safe through this turbulent period.
There are a couple of things you can do to help reduce the impact this can have on your organic performance.
Your KPIs need to change in this time of uncertainty
Consider changing the CTA of all product pages to acquiring email addresses, allowing customers to register their interest in certain products. Acquiring email addresses in this way allows you to have a direct line to contact these customers about their specific product once they are able to purchase again. This will likely lead to a larger influx of sales in the initial few days of resuming activity. This is likely to have the final revenue attributed to the email channel, however, it can help organic to soak up some more assisted conversions, as this trend continues for the channel.

Keep customers engaged by continuing to post on your social media accounts and let them know what you're up to. Have you brought in new measures? How are the staff feeling? This is all great information to share with the customer and keep them feeling valued, even when you can't provide them with your regular service.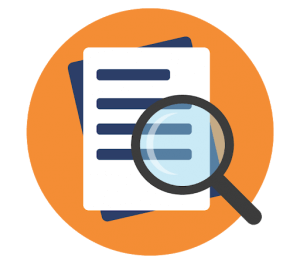 Content and information never goes out of fashion
With less of a commercial intent, now is the perfect time to get up to speed with your informational content. As I mentioned earlier, the intent for these queries won't change, meaning your rankings are safe and you can help build authority for your categories ready for when trading starts again.
Use this time to publish those blog articles you have sitting in your Trello board, clear out or update any outdated content and start to introduce your customers to your softer side. This will help build up brand affinity and form a stronger connection with audiences when we return to normality alongside providing content to help bolster your organic rankings.
In short…
Largest improvements will likely come through metrics such as revenue and conversion rate if customers cannot buy from other competitors in the SERP
Overall rankings remain unaffected in the short term from the transactional switch-off, with more competitive, generic queries being hit first

This may change in future as more data is collected and Google continues to crawl pages which can no longer fulfil the user purchasing intent

Ranking of blog and informational content looks to be unaffected due to the intent being the acquisition of information, not the intent to purchase
Keep customers up to date with your situation through email and social media where possible
If you need any further advice around this and how you can make the most of organic search throughout this difficult period, please get in touch with Al[email protected] . We'd love to hear from you and tackle this challenge together.