The change from winter to spring in the UK brings about a multitude of lifestyle and daily routine changes. The weather begins to improve, the clocks change, gifting us more daylight hours, Brits benefit from several bank holidays and children get time off school. The resulting behaviour changes can have a direct impact on retail.
Spring behaviours
Improving weather and more daylight hours encourage people to become more social. They start to spruce up their gardens and host BBQs, and some indulge in outdoor activities like running and cycling. Children get an extra hour to stay outside and play. Other activities emerge; bank holidays allow people to start DIY projects and their spring cleaning. People plan summer holidays, taking up new health regimes (after their January ones failed) and buying swimwear and shorts. Hay fever sufferers stock up on antihistamines and festival-goers keep a keen eye on the summer line ups and weather forecasts. Tents and sleeping bags are dug out and dusted off.
Spring also encourages the big spenders and we see the start of planning for summer weddings and honeymoons. In the world of apparel, wardrobes are refreshed, with winter sweaters packed away and cotton and linen from summers past rediscovered. What does all this mean? Understanding seasonality is imperative for successful retail marketing.
What is the impact on retail?
It is relatively simple to deduce what kinds of product categories might be affected by these behaviour changes. DIY, sports equipment, wedding outfits, summer dresses, and camping equipment for example are all likely to increase in popularity as the seasons change. We investigated the impact of seasonality on one of our retail clients' wedding clothes category, for example, and discovered that impressions in March last year equalled the impressions in January and February combined, demonstrating a dramatic change in customer behaviour as the seasons change.
However it can to be beneficial to dig deeper than this and investigate individual products and keywords rather than product categories, as there can be some specific variations at a very granular level. The below chart represents the search volumes for specific keywords in the wedding clothes category from January to the end of May: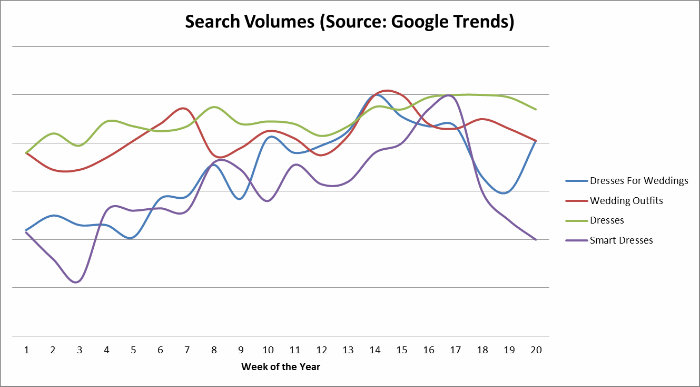 Although all of the selected keywords are impacted by the change in seasons, searches for 'smart dresses' and 'dresses for weddings' increase significantly more from January to the end of April, and interest in the former drops off dramatically in May while the latter drops off and then picks up again towards the end of the month. These specific nuances in the trends for each keyword show the importance of avoiding assumptions about entire product categories and instead investigating the popularity of individual search terms throughout the year. This kind of detailed information gives retailers the power to tailor their marketing at a granular level and be responsive to the seasonal patterns of each individual product.
Taking seasonal marketing to the next level
At Summit, we use our predictive analytics tool, Forecaster, to investigate the impact of annual seasonality. We analyse the seasonal trends of our clients' keywords and product categories to understand the impact on campaign optimisation due to different impression share and click through rate throughout the year. We have created a multitude of different seasonal curves, combining any keywords that have a similar seasonal trend to one another, in order to anticipate customer demand in the market and plan budget accordingly.
The below chart shows the impressions for 54 different keywords in one of our retail clients' accounts from March to the end of May last year: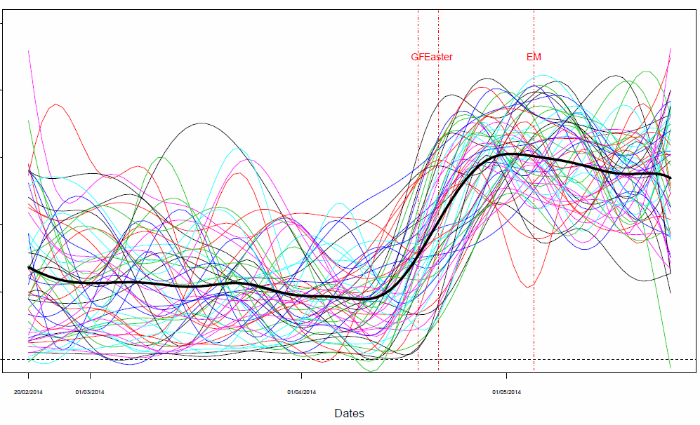 Some of the keywords included in this particular curve are ones you might expect to see increased interest in as spring approaches, such as 'strappy sandals', 'outdoor heater' 'cabin luggage' and 'skateboards'. However, other keywords within this grouping may come as a surprise, for example 'four poster beds', 'towel rails', 'nursery products', 'computer desks' and 'TV units'. The popularity of these search terms has a similar seasonal pattern at this time of year as the more obviously seasonal terms.
This insight, which could not be uncovered without granular analysis of individual keywords, allows our client to understand customer behaviour for each of their products throughout the year. This is just one of the 72 seasonal curves we have identified within retail. Using this information within Forecaster, we are able to determine exactly when and where to spend our clients' budgets every day of the year for the maximum return.
If you would like to know more about how to tailor your online marketing to seasonal changes and maximse your profit contact us at [email protected].