In order to help retailers through challenging trading conditions due to the coronavirus pandemic, Google have advanced plans to make it free for merchants to sell on Google Shopping. Starting April 27th in the US and rolling out globally in the coming months, the Google Shopping tab will primarily consist of free organic listings moving forward.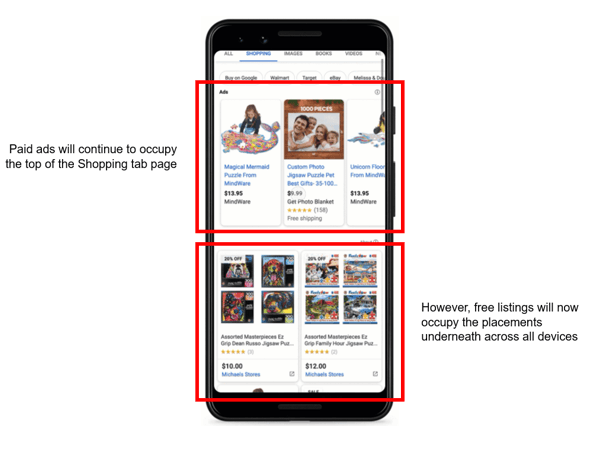 This does not impact the search results pages. Google will continue to advertise top of page and right-hand side placement for traditional Product Listing Ads (PLAs) and Local Inventory Ads (LIAs).
Bill Ready, President of Commerce at Google wrote in The Keyword blog "With physical stores shuttered, digital commerce has become a lifeline for retailers. And as consumers increasingly shop online, they're searching not just for essentials but also things like toys, apparel, and home goods. While this presents an opportunity for struggling businesses to reconnect with consumers, many cannot afford to do so at scale."
Why should we care?
This change will likely impact SMBs with little to no established Google Shopping activity the most by exposing their product inventory to millions of users searching across the Google Shopping network. The aim from Google is to help cash-strapped retailers become more discoverable online as well as compete directly with Amazon marketplace which has become a one-stop shop for consumers browsing products in recent years. Search Engine Land highlighted that Amazon already has a 13% share of the US search advertising market with that number expected to grow to at least 16% by 2021.
For well-established Google Shopping retailers, you don't have to action anything. Your new free listings will be integrated within the Google Shopping tab automatically and your paid for activity will continue to run from your Google Merchant Centre accounts. However, this change will highlight the need for retailers of all sizes to have a higher quality of data within their product feeds as these will now be ranked organically and not influenced by how much retailers are prepared to pay. The winner on the Google Shopping tab may no longer be the one who is willing to pay the most.
Finally, there's also the newly announced integration with PayPal. Retailers using PayPal will now be able to link their accounts to their Google Merchant Centres which – in theory – should shorten the time taken for consumers to purchase. This could mean that users can purchase products directly from the Shopping tab instead of being directed to the retailer's website to complete purchases.
This is a move that will allow Google to help struggling business amidst the backdrop of an economic crisis whilst at the same time establish a longer-term plan to combat the threat of Amazon.
How can Summit and Productcaster help?
For more information on how to get started with Google Shopping, either paid for ads or these newly announced free listings, reach out to the Summit team at [email protected] We can help you get your merchant centre and product feeds setup quickly and easily. Alternatively, you can take a look at Google's help centre information here.
For well-established retailers looking to take the next step in improving their data quality, reach out to the Productcaster team at [email protected]
We have a team of Shopping specialists and a unique feed management software service to help dynamically optimise and align your product inventory to Google's best practices.