The latest move by Google could remove power and autonomy from advertisers. I think everyone in the industry would agree that if you are delivering successful marketing campaigns, against your agreed return on investment, and meeting your retailers KPIs, then you should be trusted to continue spending an allocated budget. However, the latest Google budget management change means this decision has been taken out of the hands of the advertisers.
Google announced today that "campaigns can now spend up to twice your average daily budget" to help you reach your advertising goals, for example clicks and conversions. On days with lots of high quality traffic, your costs could be twice as high as your daily budget. This spending would be balanced by days when your spend is below your daily budget. Of course it's important to keep in mind that you won't be charged more than your monthly charging limit (monthly charging limit = the average number of days in a month (30.4) x average daily budget).

Over the years we have experienced numerous Google updates; merging devices, expanding matching options, automated ad rotation and many more iterations being rolled out with often little notice and sometimes no opt-out. Whilst the intention might have been to pave the way for machine learning automation, it has inevitably taken away some element of control from the advertiser. This move, however, seems to enforce Google's beliefs about the nature of the advertising industry on retailers, by taking away control on spend.
When considering the new Google policy from a retailer perspective, there are many instances where this approach would not be appropriate. In our experience, promotions rarely run for a month so if Google has already spent more budget than you planned at the start of the month, what will happen when you go into promotion at the end of the month? What impact will this change have on big peaks in demand such as Black Friday, bank holidays, Easter and Valentine's Day?
The time of year is also equally important. Many retailers need to factor in seasonality, and will move from a winter to summer range and vice versa. It will be interesting to see how this has been factored in to the new update keeping in mind these shifts in activity. Many retailers traditionally plan around a weekly calendar, which is aligned with key trading teams. If budgets cannot be controlled and monitored on a weekly basis, how will a retailer continue to work with traders? With the nature of campaigns that are not set to run for a month, how will Google cope with these activities? Supplier funding campaigns will surely be affected by this. In the case of some B2B retailers, it is common practice to have campaigns turned off at the weekend. Will this mean that Google could still spend over 100% of your budget within a month?
Fundamentally, allowing Google to make budget decisions based on conversions tracked in AdWords puts retailers return on investment at risk. More often than not the data is not de-duped and does not match what retailers report back into the business on a Monday morning. So the big question is, how will Google manage new campaigns that are activated during the course of the month, when click and conversion data will naturally be lower at the beginning, knowing that the true campaign results will only be delivered after a full month's activity?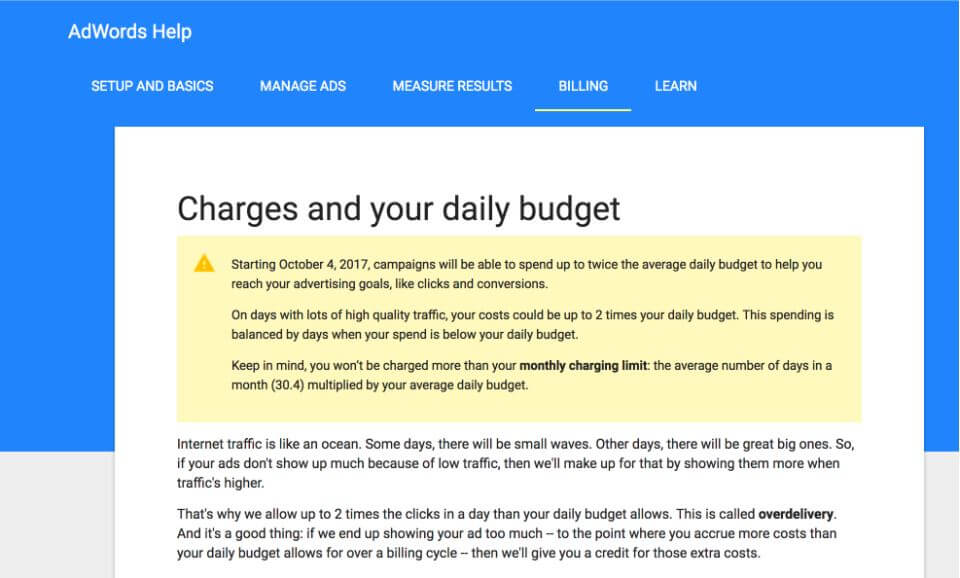 Over delivery might be a normal thing in display advertising when you get credit for the next time, but PPC as a channel rose to prominence for its high level of control and accountability. Retailers use it because it delivers a high return on investment, and because of the fact it takes into account (or at least used to) that budgets are not infinite and might not run all the time.
I hasten to add that there could be benefits for retailers here too: if Google will indeed credit the retailer at the end of each month, this could mean free traffic that still delivers sales. Of course, we are yet to see the full effects of this activity. In either case our recommendation for retailers is not "keep calm, and carry on", and wait to see how this pans out. This is the time to ask questions, be inquisitive and challenge the status quo.
Forecaster (Summit's marketing intelligence platform) allows retailers to manage budgets and return on investment simultaneously. This is based on weekly budgets, recommending spend by day, and by campaign. It takes into account key retail events, as well as weather and seasonality into its predictive analytics. This enables you to scenario plan based on accurate weekly forecasts, automate your budget planning and optimize. Retailers need to actively consider how prepared they are for this Google change, especially when other third party technologies in the industry are not offering this. This flexibility, control and transparency is surely a better option for retailers who are keen to actively manage the performance of their accounts.
Sources
Google Charges and your daily budget 2017
Adtrak Google Can Now Double Your Daily Budget October 2017
Dpom Google can now spend 2X your daily AdWords budget October 2017