Search engine results pages (SERPs) have evolved over years, introducing, trimming, optimising until we reach the complex landscape us digital marketers see before us today.
Google seems to focus on trying to answer user queries from with the SERP itself. This is shown by the inclusion of 'featured snippets', videos and images ranking in search, 'people also ask' boxes, etc. These have been introduced over a number of years and we will cover ways in which these can be optimised to improve organic search performance.
SERPs Used to be Easily Exploited
SERPs weren't always as rich as they are today. They used to convey far less information, were easily manipulated and in most cases, were downright ugly. There are plenty of instances of these now outdated looking SERPs, depending on how far back you want to look. A clear example of this can be seen below: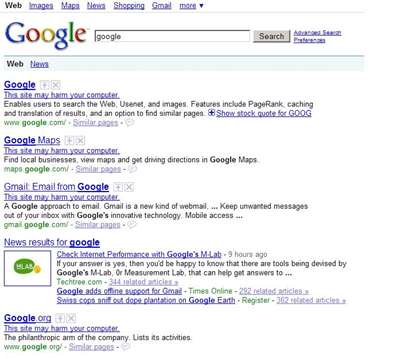 This type of SERP was only concerned with getting your URLs to rank, which could be easily exploited with the use of backlink creation and keyword stuffing. This led to the eventual penalisation of these tactics and earned them the label of "black-hat".
Organic Search has Become Wild
When exploring the current state of SERPs there are far more factors to consider. For example, the intent of the search now holds a much greater bearing on the components which will be shown for the user. Increasing the number of features on each SERP has led to a general decline in click-through rate (CTR), which is felt most significantly through mobile devices. This is illustrated by the below graph using data collected by Sparktoro: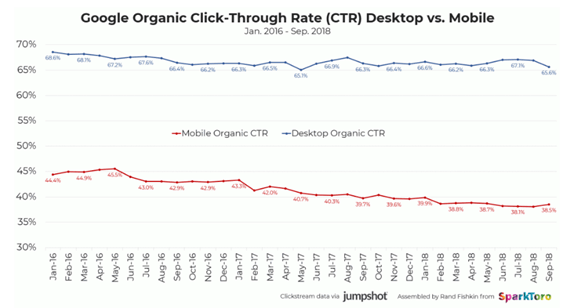 Taking an example from a typical ecommerce term such as "black dresses" below, we can see that these types of queries are more likely to result in a conversion into sales. They are also much more likely to be competitive, being the usual targets of many large retailers. In the screenshots below, we can see that many different marketing channels are competing with the usual hierarchy being:
Google Shopping
Paid media
Organic results
This greater focus on paid media has pushed organic results further down the page which can leave organic results below the fold. Even when ranking in position 1, this can have a negative impact on search impressions received and ultimately, decrease click-through rate.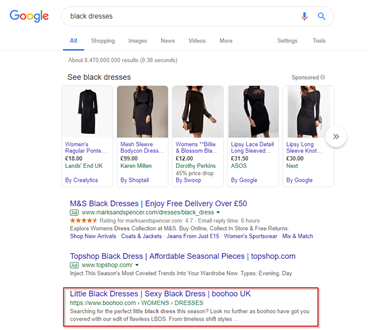 However, as users become more aware of how paid promotions work, there has been evidence to support that organic listings are much more trusted by customers and thus still have value in terms of traffic. This is due to the idea of "earning" their position, rather than paying.
The Main Areas of Influence for Your SEO Team
Although the impact of paid media can be felt across organic search for ecommerce queries, when researching and growing brand awareness, organic search is beginning to prosper, giving several large opportunities to gain visibility in the form of local listings, featured snippets and 'people also ask' boxes.
Local Search is Becoming More Competitive
For those retailers with a brick and mortar offering, local search has been growing more and more competitive, whether it was the move from a local '7-pack' to the streamlined '3-pack' or that more players are moving into this marketing space. This means that it is more important than ever to ensure that your Google My Business account is up to best practice and targeting the keywords you want to be showing for. Having this set up will allow to personalise your brand SERP further and lead to stronger organic rankings for "near me" related queries.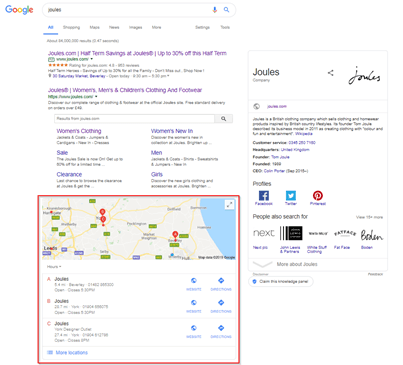 People Also Ask Boxes are a Valuable Source of Content Ideation
This is a great way to generate further content writing ideas in order to build authority. These are questions which Google has identified as being popular questions. If you'd benefit from visibility around these terms, but don't have any content targeting these queries, get it written!
In addition to this, as these are expanded, further questions are presented to the user and the first organic results are pushed further down the page. This means that acquiring these accompanying questions can also help boost your page 1 presence and visibility.

Featured Snippets Generate Google Trust Signals and Brand Awareness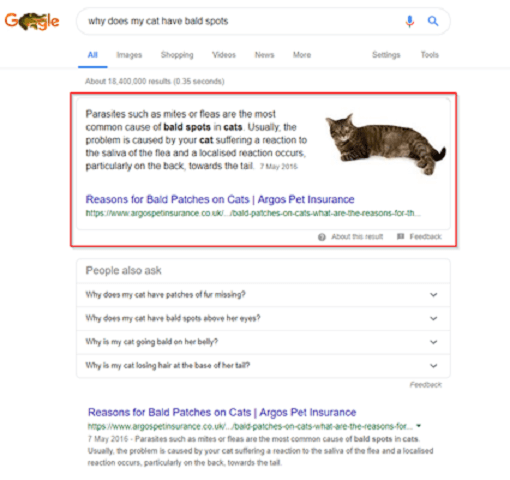 Ranking in this featured snippet position at the top of the SERP shows that you are a trusted source of information for Google, and with the latest emphasis on E-A-T value (expertise, authority and trustworthiness) this will have a positive impact on your other organic rankings.
There are lots of elements throughout your content which you can highlight and emphasise to Google in order to secure this spot within search.
This can be impacted by multiple factors, however, the brand awareness and boosted CTR found from these appealing listings makes them well worth the effort, particularly with the emergence of voice search as this is often the result served to a spoken query.
The listing above is one in which we have managed to secure for our client Argos Pet Insurance. Please see our specific article for further information of the tactics and "nitty gritty" which will be published in the coming weeks.
Image Search is Becoming More Popular for Product Specific Searches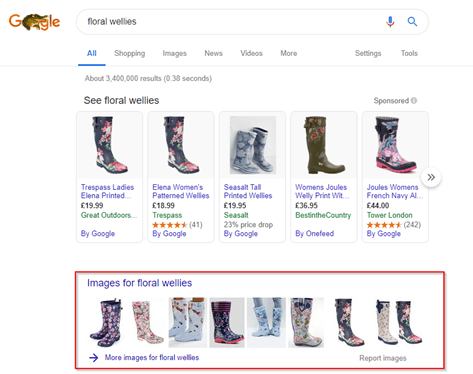 Images must also be marked up correctly with accompanying image sitemaps crawlable by Google. Since these images are brought into organic results without the user specifically choosing the image option, this is a more competitive space and is likely to entice user clicks. There are many options here to help make your images more 'rankable' within Google's algorithm, some of these are highlighted below:
Updating image alt text gives Google crawlers context of the images being shown to the user; this is ideal to help improve organic rankings but also is a requirement of the web user guidelines due to being used by screen readers to assist the visually impaired.
Other factors considered within the SERP are aspects such as the image quality and format which it is served in. To help improve your image ranking, it is suggested to serve your images in a next-gen format such as JPEG 200 or JPEG XR. You can use the Google Lighthouse Audit to identify areas for improvement.
These images also often lead to product pages, so with the high purchasing intent of the queries, ranking in the top positions of image search can lead to real monetary gains for businesses.
Video Content is Useful to Users – Which is Useful to Google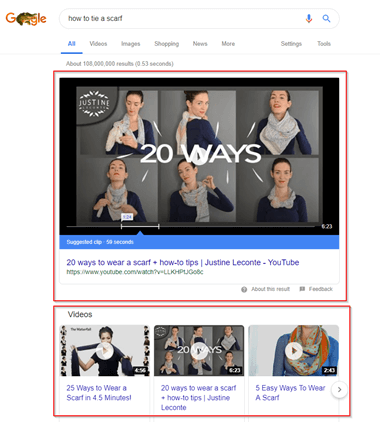 Similar to image optimisation, there is lots which can be added and tweaked in order to help Google understand the content of videos and assign SEO value to your assets.
One way this can be done is using video transcriptions, which means that Google can crawl and read all the dialogue within your video. A great way to give additional context, Google can transcribe videos automatically, however, it usually leads to lots of translation errors.
Videos can also be marked up using alt text, and similar to images, there are other SEO elements which can also be leveraged in this way. Whilst optimising videos in this way, it is also a good idea to visit your YouTube profile and ensure that your video has a description, and title which targets the keywords you want to rank for.
To give additional context to search engines, video content can be embedded on relevant pages to make for a more engaging user experience, which is essentially what Google is ranking your page for. Not only does this help amplify your video content, but also helps those pages rank more strongly within natural search.
Final Thoughts
Moving forwards, we need to be everywhere. Retailers must learn how to strategically focus on being across all SERP feature types for maximum coverage. In order to achieve this, a holistic marketing strategy must be adopted, allowing for the targeting of different queries and always being in front of the user, whether this is branded searches, non-branded commerce searches and also exploratory, research queries.
To make the most of SERPs for your target keywords, you need to leverage all marketing channels, unifying SEO, paid media and Google Shopping/comparison shopping. One of the most important aspects of this really relies on identifying the user intent for their query and catering to make sure that you have a landing page or marketing activity established to help satisfy and rank for this query. A holistic, multi-channel approach will help you take up the most search real-estate and lead to greater click-through rates through improved search visibility.
SERPs have become more engaging for users; whilst this can be scary for SEO teams, it actually leads to a heap of opportunity
Increased focus on answering user queries from the SERP leads to less organic clicks, however, the real benefit can be found in the increased visibility
Organic search teams should focus on

Featured snippets
Local search
Image search
Video content optimisation
If you're looking to maximise your digital marketing investment in 2019 and beyond, get in touch with us to see how we can help.