Across the globe, we're experiencing new, unchartered territory as a result of the spread of Coronavirus, or COVID-19 as it's scientifically known. The widespread outbreak of this disease has caused many countries to close their borders to non-citizens and neighbouring territories in a bid to cease further cases. Other countries, such as the UK, France and Germany, remain in 'lockdown', which is restricting movements outside the home, preventing non-essential journeys to further reduce the number of infections. Many UK citizens are working from the comfort of their own homes or are continuing to fight the battle against Coronavirus on the front line as key workers. Schools have closed, along with businesses classed as non-essential, such as restaurants, gyms and pubs, resulting in more people at home than ever before. Naturally, this has caused shopping behaviour to adapt so we've taken a look into how and what you can do as a marketer to make the most of these changes.
Pay per click advertising (PPC) is becoming cheaper
This applies particularly to the apparel and jewellery sector but in general, retail costs within the PPC landscape have dropped since the Coronavirus outbreak. Reducing marketing efforts to conserve spend isn't revolutionary news and tends to be the first port of call for companies when there is a degree of economic uncertainty or when a recession hits. Those who are more unfortunate may cease their marketing efforts and spend completely to conserve the business or protect the jobs of their people, as we have seen recently with Next and River Island. However, for those still able to operate in a reasonably normal manner, with the correct social distancing practices in place, the time really is right to invest in PPC activity. Generally speaking, we have seen a 25% drop in average CPC (cost per click) within the retail sector, with some key brands dropping out of the SERP, leading the way for smaller businesses to capitalise on these spots. If you're wondering how to continue generating sales within the current climate, PPC may be a great (and cheap) opportunity for you.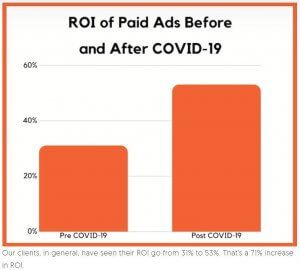 Image Source: Neil Patel
The mobile-desktop device war is changing
We probably don't need to remind everyone of the top advertising headlines, which seem curiously mobile-focused year after year. The main caption which springs to mind is 'the year of mobile', of which we've been inundated with during the start of each new year for approximately half a decade. Perhaps the headlines have been right, though. How many of us have analysed our marketing performance and seen that mobile has, in fact, led the way? And off the back of this, how many of us have adapted our activity to capitalise on mobile traffic or revenue? Due to the influx of people staying indoors and working at home, early signs are showing that mobile browsing is declining, with desktop devices rising to take their place.
There have also been shifts in browsing times throughout the day. Prior to the current lockdown situation, we'd typically see more traffic during commuting hours, lunch-time and then a further peak in the evening, when families would settle down after their evening meal. However, over the last couple of weeks, we've noticed traffic levels remain steady in the morning and throughout most of the day, then dropping on an evening, presumably as people seek to use their time after work to exercise and catch up with other family members. It's certainly worth reviewing your device splits and analysing how your hour of day performance may have changed to make sure you're not missing out on when your customers are browsing.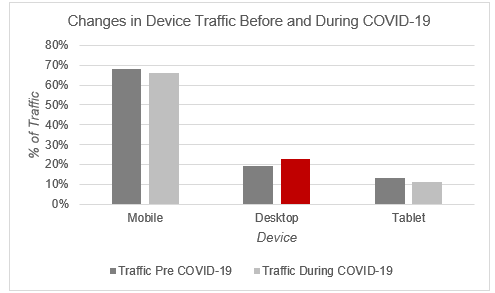 Source: Summit internal data
People are spending more time online but may be less brand loyal
Statistics from the past week show that footfall is down by as much as 81% in high streets across the UK, largely as a result of the closure of non-essential businesses and the instructions on social distancing. Naturally, this has forced many people to focus their attention online instead, enabling them to purchase their groceries and essential items safely. Although there are more people shopping online than before, studies suggest that these shoppers may be less brand loyal. The widespread headlines over the past month around panic buying items such as toilet rolls, handwash and pasta have shown that when in a worried state, consumers will purchase whatever brand is available to them just to ensure they're able to secure the item they need.
Luckily, panic buying seems to have subsided recently, however, there is still an abundance of people browsing online, meaning there are more touch points for marketers to use to reach potential customers. Over the last few weeks, Google Trends has shown breakout increases in interest for long-tail queries, such as 'how to cut own hair at home' and 'how to make beer at home' as people adjust to their new routines at home. From a marketing perspective, it's important to ensure your content is optimised so it's more likely to show for these informational searches.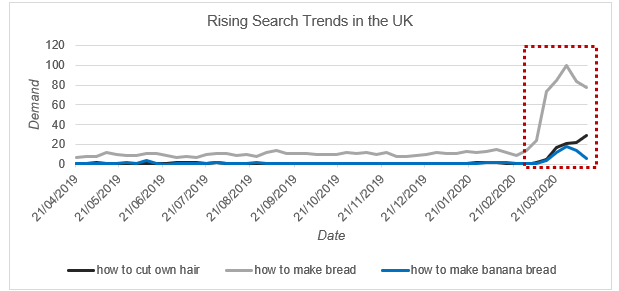 Source: Google Trends
Final thoughts
Although the current situation is causing challenges for some businesses, there are certainly plenty of opportunities for marketers to make the most of to help their brand navigate through uncertain territory. If you're interested in learning more about how we can help you, please drop us a message at [email protected]
Sources:
https://eu.usatoday.com/story/news/world/2020/03/17/coronavirus-how-countries-across-globe-responding-covid-19/5065867002/
https://www.theguardian.com/business/2020/mar/26/next-stops-online-shopping-amid-uk-coronavirus-restrictions
https://neilpatel.com/blog/covid-19-marketing/
https://www.marketingweek.com/mark-ritson-marketing-spend-recession-coronavirus/
https://searchengineland.com/desktop-search-is-rising-amid-the-work-from-home-surge-331907
https://www.chargedretail.co.uk/2020/04/02/how-is-the-lockdown-changing-our-shopping-habits/
https://www.retailgazette.co.uk/blog/2020/04/retail-footfall-dives-81-in-2nd-week-of-lockdown/