I had the pleasure of attending the Brighton SEO Conference that took place on the sea front of a thriving and hipster city. Following a passionate crowd of marketers, we were funnelled down Queens Road and bottlenecked into the lovingly decked out Brighton Centre for a day of industry updates and learning, scoring as much swag as possible along the way!
Below we have put together our key takeaways from the technical SEO talks we attended and included some potential next steps for our clients to take. If you're looking for a round up, read on!
HTTP2 – A Guide For SEOs
Here are our key takeaways from an incredibly fun truck analogy, explaining what HTTP/1 and HTTP/2 are and why the latter offers far more benefits when it comes to reducing page speed load time.
What is HTTP/1?
HTTP is the underlying protocol used to govern the connection between a user's server and browser
When forming a webpage, your browser needs to make a request for a resource across a network connection. On HTTP/1 a browser can make up to roughly 6 requests at once
Today however, forming a webpage can take on average 50 – 100 network requests, and with only one request per network connection allowed to be made at once, this can really slow down a webpage

Why is HTTP/2 better?
HTTP/2 allows for multiple requests over one network connection, allowing requests to be fulfilled quicker and for page speed load times to decrease
CDNs (Content Delivery Networks) help speed up the time it takes for a network request to complete its journey by hosting that resource closer to where the request came from
HTTP/2 allows for a server push. This is where if a request is made, the server will send back multiple files
HTTP/1 and HTTP/2 exist together – the browser will fall back to HTTP/1 if HTTP/2 isn't available
Moving to HTTP/2 is NOT a migration and doesn't require a major site change
HTTP/2 is only available for secure (HTTPS) sites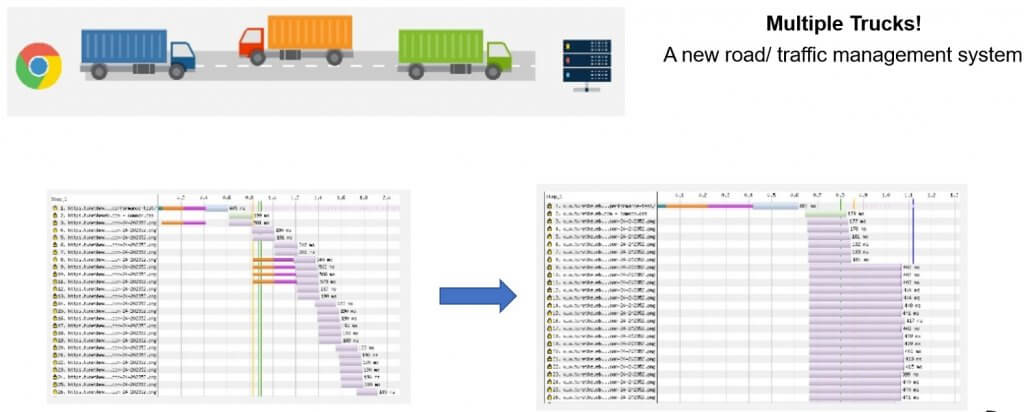 The graphic above shows the network waterfall within the Chrome Developer Toolbar. On the left, we can see in HTTP/1 there are only ever 6 network requests running at once. The moment one of those network requests have completed their journey, another resource network request begins. With HTTP/2 we can see that multiple requests are taking place at the same time meaning that more resources are being sent back to the browser in a quicker time when compared to HTTP/1.
What are the next steps?
Are you already utilising HTTP/2? Here's how to check:
Ensure your site is secure with an HTTPS protocol
Check to see if you are currently on HTTP/2 by using the Chrome Developer Tools:

Press F12 whilst on a Chrome browser
Navigate to the network tab
Right-click one of the headings and select "protocol" in the drop-down menu
This will add the protocol column where you can see which protocol your resource is being served on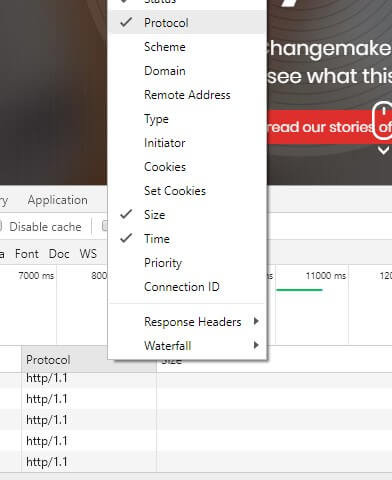 Here's what to ask your developer:
Has the server been updated to allow support of HTTP/2?
If not, here's what's required to support HTTP/2:
Check or update your server software to ensure it can support HTTP/2
Migrate your site from HTTP to HTTPS if you haven't already
Implement a CDN (Content Delivery Network) which locally stores resources on a server closer to your users allowing for a quicker server response time due to proximity
Common Hreflang Issues
This topic was discussed by the wonderful Emily Mace of Oban International. It was great to hear her to stress the complexity of hreflang and to highlight how even the industry experts (such as John Mueller of Google and Rand Fishkin of SparkToro below) are still finding their way through the topic.

Here we take a look at the 2 core problems that occur along with a few other issues that surface when adding hreflang tags to your international site.
What are the core things that can go wrong with hreflang?
Conflict in tags

Your canonical tags must match your hreflang tags. If they are not the same, then what does the search engine use as a reference point?

No return errors

These errors can be highlighted within Search Console
This means that your pages are not reciprocally linking to each other. All pages must politely link e.g. the French version of a page must link to the Irish version of the page and vice versa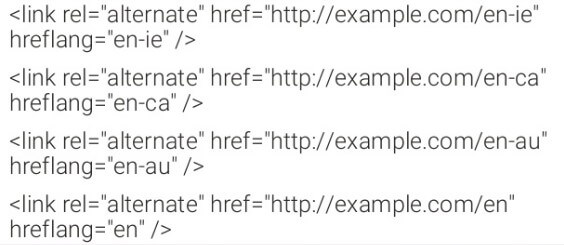 What other problems can arise with hreflang?
Links in your hreflang tags are not live e.g. they are returning 404 errors
The correct language and country code haven't been used
Each individual URL is targeting only ONE language and country
IP serving – Google don't want you to do this
How can you check your site is handling hreflang correctly?
Even though Google does help fix your international targeting, DON'T rely on this alone. Take a look at the following to help diagnose any issues you may be having:
Ensure the correct handling of hreflang tags. This is by having them in the sitemaps OR on the page (don't do both as Google will hurt itself in its confusion):

Hreflang tags in sitemaps: large sites, ecommerce sites, regularly updated sites
Hreflang tags on page – everyone else

Look in Google Analytics to see if traffic is coming from the right countries
Spot check language and country codes across page types or sitemaps (depending on which you are using)
Use Screaming Frog to check that hreflang tags match canonicals
Use Ahrefs.com to see if your international sites are cannibalising rankings and competing in the wrong countries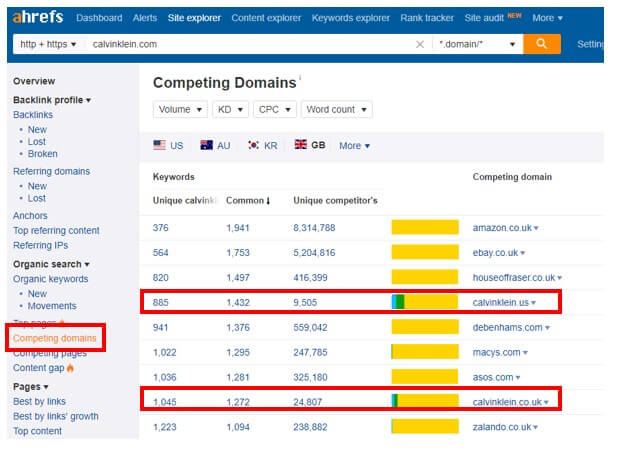 How much impact can crawl budget optimisation have in a mobile-first indexing era?
The heavy morning sessions are almost over! In this mobile-first indexing world we are now living in, anything that we can do to help Google crawl our site a little better is certainly valuable. In this talk, we got a collated checkpoint list of the factors we should be optimising.
Background on mobile-first indexing
Every site has a finite crawl budget that should be used effectively
The crawler Google will be using will be the mobile crawler, requesting the mobile version of our page
This mobile crawler will be used 80% of the time and we should use the mobile crawler when carrying out checks on our sites
Even responsive sites should still be put under scrutiny! More can be changed or hidden than we realise
How to check your site is being indexed mobile-first
• Keep an eye on Search Console messages – you will receive an email if Google switches its user agent for your site
• Check server log files – this will give you an indication as to whether the mobile crawler agent is visiting your site more than the desktop
Crawl budget optimisation checklist
Prune and assess your content – make sure your content is relevant and useful on site and look to see where content should be combined and resurfaced
Make sure internal redirects are clean links instead
Avoid inconsistent signals, e.g. audit your canonical tags to ensure they match the correct URL
Use robots.txt effectively and block any pages from being crawled that shouldn't be
Improve site structure by looking at your current navigation and ensure the most prominent important pages are easily accessible
Use 410 status code to tell Google when content is completely gone from site
Check structured data is found on the mobile version of the page
Remember to audit your site to ensure that the mobile and desktop versions match! Below are some key aspects to consider: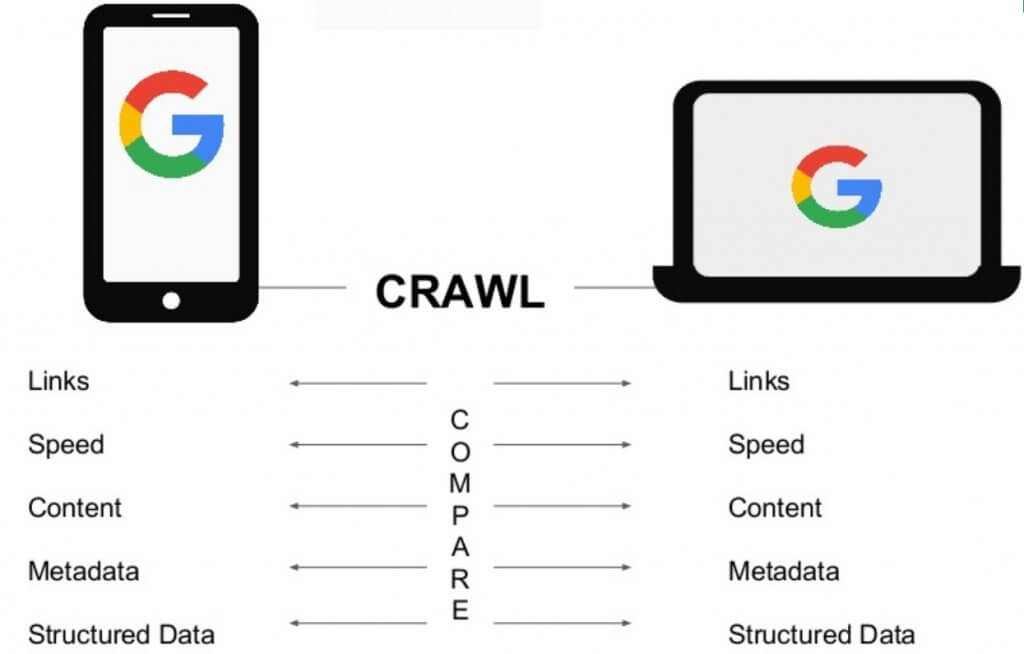 Phew! There was certainly a lot of information to digest from Brighton SEO and we've barely scratched the surface. If you feel a little lost, we here at Summit are happy to have a chat with you to discuss how we could help your site's organic search performance. Feel free to contact us now.