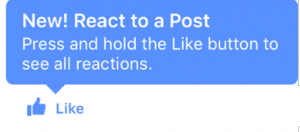 You may have noticed a subtle change to your Facebook social space yesterday, with the rollout of the much vaunted 'dislike' functionality. The change to the 'like' button was announced last year and has since been given the green light and rolled out into the UK in the form of Facebook reactions. Users are now able to respond to posts, images and videos with a varied range of emotions: love, laughter, surprise, sadness or anger.
What does this mean for retailers?
Reactions provide users with a way to quickly impart sentiment on a brand's social content. It's much easier to add a reaction to something than it is to comment, so posts that perhaps divided opinion previously may now see a much larger negative reaction.
More than ever before, retailers will need to plan their social strategies with the consumer at the forefront, ensuring ads are engaging, relevant and adding value to the Facebook experience. Anything intrusive or irrelevant could acquire negative reactions very quickly, so retailers must ensure they monitor social activity closely, and plan for and be reactive to negative feedback. Failure to do so is likely to have an adverse effect on both sales performance and brand perception.
However, the reactions buttons are a fantastic opportunity for those retailers who are showing engaging ad content to the right users. Will this be the start of "love" centric campaigns? I'd like to think so!
What we know
The new feature is present across all media content with all reactions currently grouped together for a combined interaction total. It is possible to drill down to see who has reacted in what way however; potentially paving the way for retailers to engage with consumers through new and innovative means. Acquired reactions are not a viewable metric within Ads Manager or Power Editor, yet, although we expect this follow shortly as Facebook continues to develop its advertising offering to rival Google.
If you have any questions or would like to know more please contact Dan Upson on 01482 876876.