In April Summit was invited to attend the "Digital Britain Conference" in Manchester hosted by the Internet Advertising Bureau (IAB). We got to hear first hand what their IAB/PwC Digital Adspend Study had uncovered, with Google and Twitter providing further insight into trends in search and social media.
It was the first event for some time that the IAB had hosted "up north", and in addition to the 2013 ad spend figures we also got some insight into the latest consumer trends and hottest topics across tablet, mobile, social and video. We were also able to get some practical tips and creative ideas from our peers within the industry.
Mobile, video/content, display & international were high on the agenda for several of the speakers; how to substantiate their value and what they can deliver.
For example, for video, content, display and mobile, the view now seems to be that these need to be viewed from a totally fresh perspective, in a manner similar to that of traditional offline advertising. The emphasis is on developing a brand, raising awareness, occupying competitive space or creating a buzz around a new product launch, rather than just converting last clicks to sales.
             You may also be interested in:
Accelerating Performance: Google's big bets
IMRG Connect: everything you missed and need to know
Internet Advertising Bureau – IAB
The IAB presented some high level 2013 industry figures, forecasts for 2014 and beyond as well as touching on the evolving role of mobile.
In 2013 –
The total value of the digital industry equated to £150bn and 8.5% of the UK GDP
Digital ad spend totalled £6.3bn, a 15.2% like-for-like increase

Display + 22%

Classified +8.9%

Search +14.2%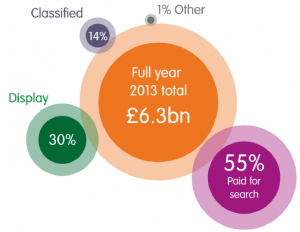 Mobile ad spend soared by 93.3% to £1.031bn and is now 16% of digital
Tablet dedicated ad spend reached £24.4m (this is ads designed specifically for tablets only)
Display growth totalled 3%, however growth was a staggering 13% for mobile, powered by the growth of video, social and mobile
Mobile video showed massive growth, 171% to £357.1m, powered by 4G networks and increasing connectivity
The UK has the highest ad spend per head in the world and 85% of the population are now online
Downtime = screentime
People can't just do nothing any more, and they use devices to fill gaps. The IAB survey suggested that 52% of people fill downtime with mobile usage, whilst 37% even check their phones whilst out with friends if there is a lull in conversation.
Mobile also plays a different role and requires a different marketing mind set. Consumers may not purchase an item using their mobile, but they are likely to be researching on it. So it is important to be discoverable. Consumers turn to their smartphones during downtime and need to be able to find your content or products quickly and easily.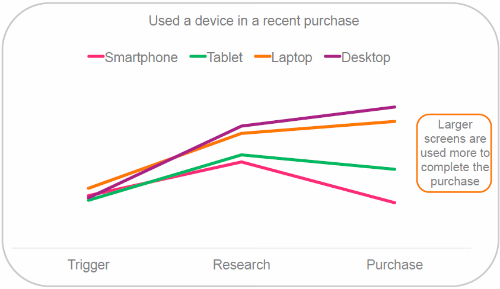 Surprisingly, a study of the top 100 brands showed that 43% aren't mobile optimised. Also, out of the top 50 UK retailers –
40% do not have a transactional mobile site
70% don't have a transactional app
10% of finance companies were directing mobile traffic to a non mobile site
Omniscreening
Omniscreening, the new buzz word for multi-device, is an experience likened to that of driving a car. All the mirrors and instruments give us useful information however we cannot use it all at once. Therefore we pick and choose what we need from each when we need it, thus each device plays a different but equally significant role.
IAB Research tells us that –
51% of people use smartphones and laptops simultaneously
27% use phones and desktop
20% phones and laptops
Larger screens are still utilised more in the final stages of a purchase journey, however mobiles fare comparably in both the trigger and research stages, as shown above.

Google discussed the opportunities it can provide for domestic retailers who are planning international expansion. They also demonstrated some of their in-house tools that can support retailers on their expansion journeys.
They discussed the borderless digital opportunity and highly interconnected global markets – the world is increasingly becoming a smaller place. From a retail perspective this is driven by the rise of the internet and the quickly converging online audience through multiple devices. 1 in 4 UK shoppers are now "3 screeners" and there is 75% smartphone penetration within the UK.
Google forecast global eCommerce sales for 2014 to be $1.5tn, which is estimated to increase to $2tn by 2016, with Asia being the key location for growth.
In 2013, £7bn UK retail sales came from abroad; this is estimated to be £28bn in 2014, with international growth outpacing domestic 10 fold.
2020 export value is forecasted to increase fivefold to $130bn (for 6 of the biggest eCommerce markets).
There are several Google tools on offer, each playing a differing role to support international expansion.
Consumer Barometer with Google – which identifies shopping behaviours
Google Translate – which is said to increase CR 4x and allows retailers to speak to consumers in their native tongue
Global Market Finder – which shows international search volumes, CPCs and respective competition
Finally, Google signed off with 3 key takeaways –
Spot and respond to evolving demand
Start with easy "go to" markets
Use the tools available to you

Twitter also presented at the event with their content largely centred on TV alignment to Twitter and Twitter advertising. They discussed the tools and methods available for retailers or brands to target consumers and engage with their target audience, plus the advertising platforms available to do so.
Twitter touched on how brands are able to address multiple parts of the conversion funnel from brand awareness to direct response through Twitter, and linked in with the omniscreening theme throughout the day and how Twitter bridges some of the gap between online and offline.
Twitter sees incredible amounts of activity across its platforms, with –
500m tweets every day
240m active users
76% of which are on mobile (80% in the UK)
TV is a key interest area for Twitter and the Twitter app is a "live" second screen – its content and discussion mirroring the thoughts on what is currently on our TV screens.
40% of traffic is about television
90% of online TV conversations occur on Twitter, 70% during the actual broadcast
Twitter claimed that utilisation of Twitter advertising alongside that of a TV campaign leads to –
95% stronger message association
42% uplift in conversation if hashtags are used on TV ads
56% increase in ROI on TV ad spend – making TV work harder!
Twitter are expanding their ad offerings and offer several Twitter cards; the advertising medium available to merchants to utilise on the platform. These are available in numerous formats, such as product, image, lead generation, app links or even vine cards (6 second videos).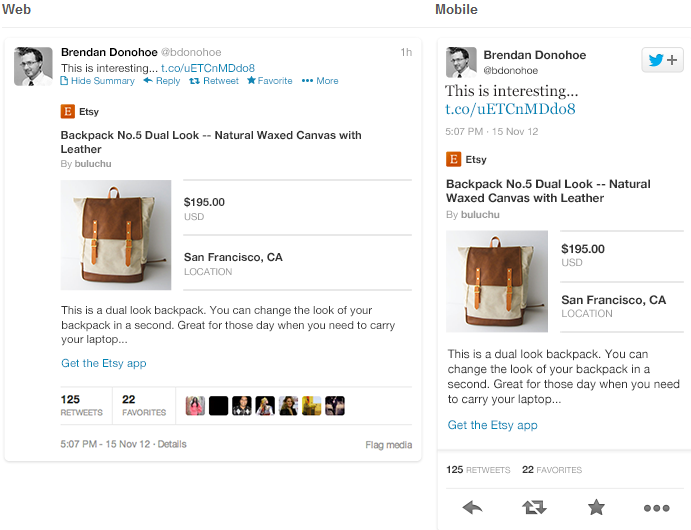 Twitter Amplify also allows you to sponsor Twitter content, such as key events during the world cup or commonwealth games, and allows you appear on sponsored videos as a short ad prior to the actual content. This will amplify your "on brand" exposure and reach.
Consumers can also be targeted using Twitter's 'Tweet fingerprints'.
Twitter have mapped the tweet trends of movies, videos and TV programmes and found that despite the channel or time shown, you see similar tweet trends, with volumes increasing and decreasing at set points within the broadcast. Twitter allows you to target using this data, hitting the right people at the right time for your brand.
Here we have touched upon just a fraction of the content presented throughout the day. However what is clear is that despite strong growth figures for 2013, 2014 is expected to see digital continue to grow further still. Growth driven by international expansion into new markets, display and social activity across multiple devices, powered by practical tools, engaging content and innovative new ways to target the consumer with the right ad, in the right place, at the right time.
Slides from the conference can be accessed by signing up to the IAB.
If you would like to know more about the IAB conference or discuss what Summit can do for you please contact Dave Trolle on 01482 876 876.