Republished from Retail Week – 20th April 2016.
It's no longer acceptable for fashion retailers to blame the weather for poor sales – and they should seek lessons from fast-fashion rivals.
Following the BRC-KPMG Retail Sales Monitor results pointing to 'unsettled' weather as the cause for poor performance among fashion retailers, Retail Week's deputy news editor Luke Tugby was right to question why unseasonable weather continues to be cited as an excuse when results season comes around.
Unsettled weather is, sadly, as quintessentially British as Marmite on toast and naturally it impacts the way we behave. However, it's no longer an acceptable umbrella excuse for British retailers to seek refuge beneath.
To beat the weather, fashion brands need to learn from their younger, faster counterparts. They need a supply chain that can adapt quickly and they need to understand how to use temperature fluctuations to their advantage, rather than to their detriment.
Conception to display
Take Zara, for example. The retailer has many suppliers clustered around its headquarters, where designers and supply chain executives work closely together – both in response to new trends and an unseasonably mild winter or rainy summer.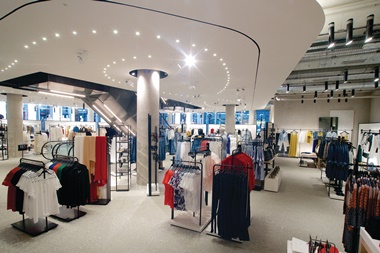 It enables Zara to move from conception to display in just weeks. They don't need to order long-lead-time pieces in bulk and, instead, the bestselling garments can be topped up during the season.
Multi-branded stores should start to renegotiate contracts with suppliers so stock swaps are available on lesser-selling lines.
Short-ordering in season is also becoming an increasingly popular option as it means less cash has to be tied up in stock purchased through large forward-orders.
Boohoo's model, for instance, sees it buy a few items on a short turnaround for delivery. If it's gone, it's gone – and if it hasn't, then there isn't too much of it left hanging around.
Win with the weather
Regardless of the weather, retailers can see a successful growth in sales. While the fickleness of the UK weather may provoke a few moans and groans, life and sales should carry on.
Joining up what the customer is looking for and catching them at a moment when they are likely to make a purchase and are in the right mindset is key.
The impact that weather has on people's buying behaviour depends on the product, the demographic that's buying it, the time of day and the moment in the season. To truly get to grips with this, data is key.
It's important to look at historical sales and weather fluctuation – we usually advise looking at trends spanning over 10 years to get a full picture.
Getting informed pays dividends, but retailers must innovate and adapt to these changing consumer demands.
Retailers can plan ahead with an understanding of the seasonal behaviour of those products that spike in extreme conditions, and the beauty of digital means that campaigns can be built and pushed out locally in real-time, as soon as the sun moves behind the clouds.
For retailers, the challenge will always be managing the supply chain to adapt quickly, as well as understanding how to use temperature fluctuations to their advantage – rather than to their demise.
Fashion brands should take note of the latest BRC-KPMG figures and make the changes necessary to avoid the weather man impacting on their bottom line once again.