What's changing as a result of the EU antitrust ruling?
In June 2017, Google were fined a record €2.4 billion, as their approach to only serving their listings within Google Shopping or Product Listing Ads (PLAs) was deemed illegal. In addition to this fine, Google had 90 days to cease its illegal activity, providing an alternative approach. In order to comply with the EU ruling, Google has announced on the 27th September 2017 that they will allow other shopping comparison sites to appear in the Google Shopping results across Europe. Specific changes that are already becoming apparent include all PLA listings starting to serve a "By Google" message, to make it clear to the user who the listing is powered by. This can be seen in the example below.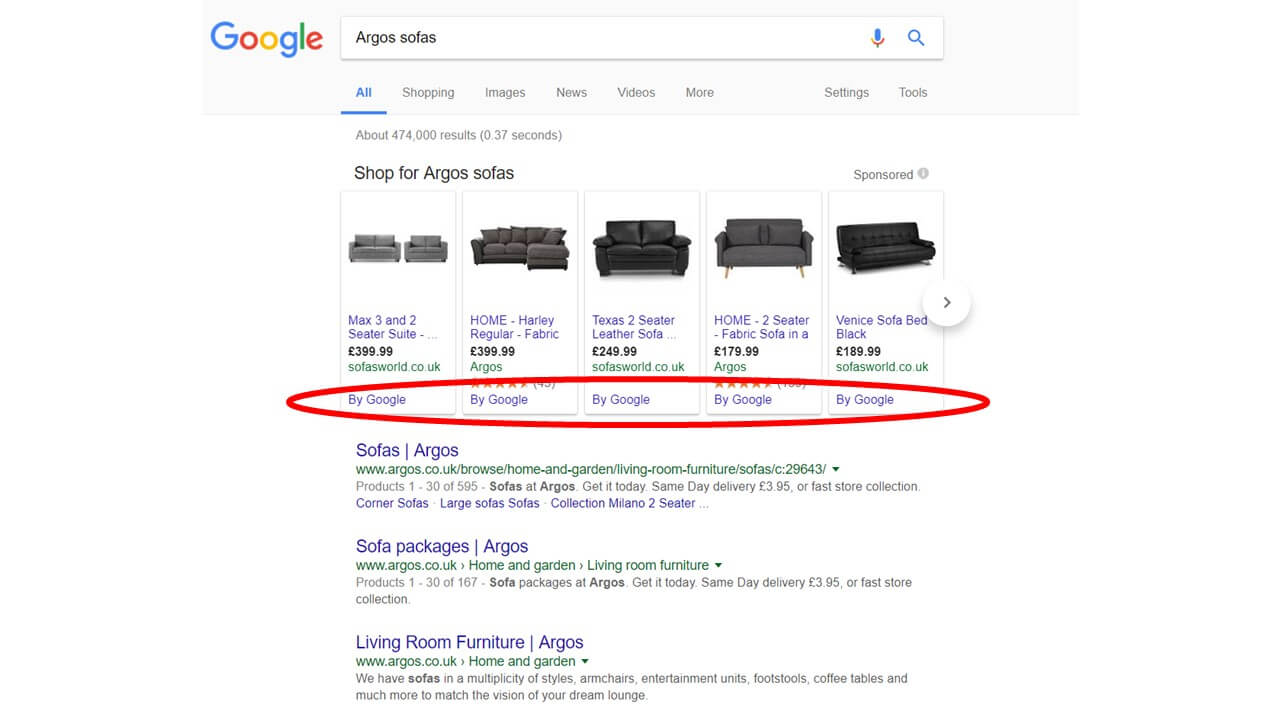 What we know today
• The "powered by" message will contain the specific site, positioned at the bottom of the ad
• All clicks from the shopping area of Google will land on the brands pages, to ensure a consistent customer experience
• The shopping sites will pay Google directly for clicks. The payment between the brand and the shopping site will still need to be arranged separately, outside of Google's involvement
• The current auction model will be used to decide which advertiser to serve against each keyword query, creating uncertainty as to how often a shopping comparison site could serve
• This only impacts Google Search results page (not Search Partners or Google Shopping tab)
• Google will ensure the advertiser does not end up competing against themselves
• Google cannot currently estimate the changes in performance, cost and uptake
What do we expect to happen?
As there is limited information available in the public domain about this change, it is too early to say whether there will be any material impact. There is the possibility of an overall reduction in PLA share of traffic and revenue for brands because of this change, with listings powered by other shopping comparison sites taking this share.
This change technically means that Google are legally compliant, however it is not a foregone conclusion that retailer revenue streams will immediately reduce, as the shopping sites will need to work through technical and commercial aspects such as feed integration and appropriate pricing models, to make the adoption of this commercially viable. It will become clearer over the coming weeks to what degree listings powered by other shopping sites will serve.
How will Summit help?
As Google PLA performance can be up to 60% of retailers paid search revenue, we are taking this change seriously, ensuring we understand the impact of this change and mitigating against any loss in revenue. We are in a strong position to support retailers and to help them understand the impact this will have on their business:
• Our team of data scientists are monitoring any significant changes in impressions, clicks, click-through rate and CPCs, which would consequently impact on PLA performance and subsequent budget recommendations and optimisation changes through Forecaster
• Our product specialists are working closely with Google to understand any changes to the management and reporting aspects of Adwords. In addition, we are engaging with our partner contacts across the shopping comparison sector to understand their plans for taking advantage of this change and what is the best course of action for a retailer
• We have our market leading feed management technology in Prodcaster, which enables retailers to take advantage of the potential opportunity which may present itself across other shopping comparison sites, at pace
• If the market share is statistically significant, we will be able to understand the incremental benefit of proactively starting to work with other shopping sites or increasing budget
For further information please contact John Readman, Sales and Marketing Director at [email protected] 
Sources
Google Inside Adwords "Changes to Google Shopping in Europe", September 2017