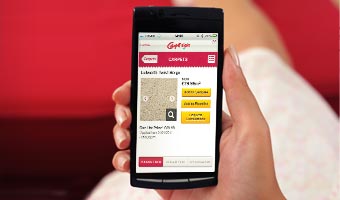 As the UK's only retail-focused digital marketing and eCommerce specialists, we can help you get the most out of mobile. Guiding you on the journey from 'audit to app', we'll work with you to define objectives and develop your strategy before delivering your mobile solutions.
Summit combines marketing analysis and insight with technical know-how to navigate the many operational and technological challenges that mobile deployments can present. We also have our own mobile platform that plugs straight into your website before cleverly manipulating your content to deliver a seamless mobile experience to users.
In addition, our experience of submissions to the App Store and Android Marketplace means you can be sure that your apps are available to customers as fast as possible.
Mobile solutions for retail – Summit expertise
Our technology team comprises 30 online retail experts with thousands of man-hours' experience between them. Using our technical skills and knowledge of the sector, we can develop mobile solutions that:
Adopt a commercial, marketing led approach -To maximise the utility and impact of your mobile solution, we take into account marketing considerations such as mobile SEO and page load speeds, plus the research into user behaviour provided by our insight and analysis teams
Use the right technologies - We can help you decide which technologies are best for your business – we can use HTML 5 and CSS 3 (or both) to develop native applications for Android, Blackberry, iOS or Windows Phone 7, or mobile websites built on your own platform (or ours)
Deliver mCommerce, without integration - Our own mobile platform works without us having to go anywhere near your back-office or front-end, making deployment easier and quicker – and reducing your costs
Allow for multi-channel tracking - Summit's mobile solutions allow you to track your customers from their mobiles to your website and bricks-and-mortar stores