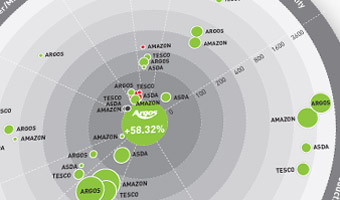 As the UK's only retail-focused digital marketing and eCommerce specialists, we understand that social media listening is much more than a PR exercise for you – it's a commercial imperative. But are you wasting your money?
Tracking the millions of comments about your brand is one thing, but making sense of it all is much harder. What are the meanings behind the messages? If you think you know, how are you changing your own communications and activities in response?
To help you find the answers and make a positive difference to your bottom line, Summit combines expertise and sector knowledge with technology resources – including our tracking, reporting and marketing toolkit (called Stingray) that gives you a single view of all your online activities.
Retail social media listening – Summit expertise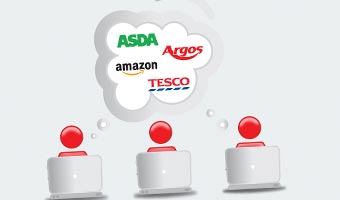 Nobody has cracked automated sentiment analysis – even the most sophisticated artificial intelligence programmes struggle with irony, anger, comedy and certain errors in meaning. That's why we use Stingray for data gathering (and for your weekly and monthly reports) in combination with a manual process of editorial review and sentiment assessment.
Our team of experts dissect and interpret the data to provide you with the nuggets of information and opinion that might make a difference. What's more, we deliver these accurate and timely insights to the right people and recommend the best course(s) of action.
To inform and improve your engagement campaigns, and produce a stream of tactical opportunities, we make the results of social media listening more tangible through:
Effective categorisation
We create business-relevant categories (e.g. your products, stores and brand) for data collection
Human intervention – capturing information and considering attitudes
Our 15-strong listening team analyses all of the social media mentions that we've manually and electronically recorded for you, and evaluates the feelings and opinions
Immediate red flagging
To allow you to respond quickly and effectively, we'll send you instant notification about negative comments concerning your products, service, delivery or brand
Crisis management – extended PR package
To help your strategic and logistical planning around sensitive issues (e.g. product recalls), we offer additional listening and monitoring services
Retail social media listening – Summit technologies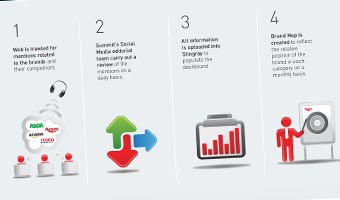 To help you gain competitive advantage, we use a combination of third party applications and our own proprietary software:
Stingray software suite
We use the social media listening functionality of Stingray to collect data from multiple online sources, apportion the information into the appropriate categories, and generate data-rich reports
Sentiment evaluation software
We use sentiment evaluation software to support our manual efforts, allowing our social listening team to analyse the millions of mentions about your brand as rapidly and easily as possible